By 1944, the order was to transport prisoners to coal mines and factories in Japan. Frank was one of more than a thousand Australian and British prisoners forced into the cramped hull of the Rakuyō Maru. For five days, he endured sweltering heat, no fresh air, barely enough room to sit and drank only half a glass of water a day. Dysentery soon spread through the crowded inmates.
In the early morning hours of September 12, 1944, the Rakuyō Maru and another prisoner transport were hit by American torpedoes. "We were torpedoed by an American submarine headed for Japan. It was an unmarked ship, so the sailors didn't know there were POWs on board."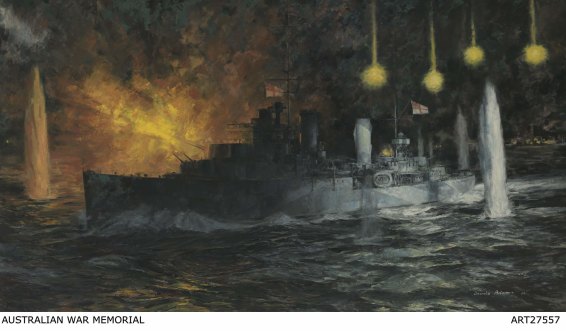 In one of Australia's worst maritime disasters, 1,559 prisoners of war were killed, 543 of them Australians. However, in another extraordinary twist of fate, Frank McGovern managed to survive the attack and find a lifeboat left behind by the Japanese. For three days, he and 30 other mostly Australian soldiers survived on the lifeboat.
"We were on an open boat, so we decided to go to China, a few hundred miles away; we had no food on board and very little water."
While some survivors were rescued by American submarines a few days later, others were reportedly massacred by Japanese machine guns. By the third day, Frank and his crew were ordered to board a Japanese ship at gunpoint. Frank McGovern survived a second torpedo attack only to become a prisoner of war.
On the frigate, convicts allowed to rehabilitate were given handfuls of rice, "which was terrible because we were so dehydrated on the open boat." They endured a nightmarish voyage, and were killed before they finally reached Japan. To further submarine raids. Frank vividly remembers the locals at Mengi who saw the prisoners unloading their ships, "some got malaria and dysentery, and we were not doing well under the watchful eyes of the locals. Half of us were half dressed; It was covered with a small old blanket."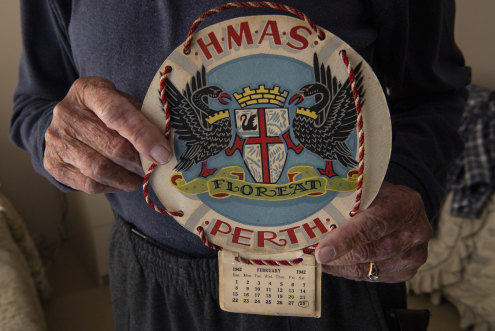 That night, the prisoners were herded onto a train, "with all the shutters closed and we were not allowed to look out. We took the train to Yokohama, near Tokyo, which took thirty hours. It was a cold, wet, miserable day. one day."
At the Kawasaki Concentration Camp in Tokyo, the men endured months of hard work in factories until the night of March 9, 1945, when the United States launched the deadliest air raid in history. Frank remembered the night vividly. Over the course of 48 hours, 2,000 tons of incendiary bombs were dropped on just 16 square miles of Tokyo. Frank McGovern again miraculously survived, though their camp was reduced to ashes. Prisoners were transferred to another camp.
Just weeks later, while Frank was sitting next to his close friend Keith Mills, a bomb fell directly on the campsite. "There was a bombing attack a few weeks before the end of the war that killed 30 of us, including my partner. He was bombed and I was bombed, but I escaped with a broken spine… "
Loading
Frank was immobilized all night, surrounded by the dead, and the screams of the wounded gradually disappeared into the night. Finally rescued the next day, he was taken to Ciborah Hospital, where he remained without treatment for several days. He quickly noticed that other former prisoners, initially recovering from shrapnel wounds to their legs, were suddenly pronounced dead in the operating room. An American working in a hospital warns Frank that Japanese doctors are draining blood from people who cannot walk for transfusions. With this warning in mind, McGovern managed to muster the strength to stand and walk briskly during inspections by Japanese guards despite a fractured spine. The move would again nearly save Frank's life when he is ordered back to camp.
Seventy years after Liberation, Frank still remembers exactly the date the Pacific War ended: August 15, 1945. Although no information was provided, the atmosphere at the camp had clearly changed. Food packages began to be delivered to emaciated prisoners. Shortly after the bus arrived, they were transported to the hospital ship USS Benevolence, where they were examined and treated for about two weeks. They were then transferred to Manila, where they were debriefed before boarding a flight to Darwin and another flight to Sydney.
It was a great feeling to have Frank back home and reunited with his parents again. He visited Keith Mills' parents to introduce them to their son and offer some form of comfort. In return, he gets a picture of the friend who has endured so much by his side. After the war, it took Frank many years to adjust to life back home, with many painful memories of his wartime experiences.
"I found it difficult at home, like most of us, because my brother was on the same ship as the Perth and he didn't survive … so it was difficult to come home."
In 2019 he was awarded an Order of Australia for service to veterans and their families. The award recognizes Frank's extensive service to HMAS Perth Association, HMAS Perth Prisoners of War Association and Coogee Randwick Clovelly RSL Branch.
written in the war memorial book
The Opinion Newsletter is a weekly roundup of opinions that will challenge, champion and inform your own opinions. register here.