The Matildas are finally back in Perth and former Australia international Danielle Brogan sees it as a once-in-a-lifetime opportunity to see Sam Kerr in action in her hometown.
Cole will lead Team Matilda in three Olympic qualifiers at HBF Park from Oct. 23 to Nov. 1.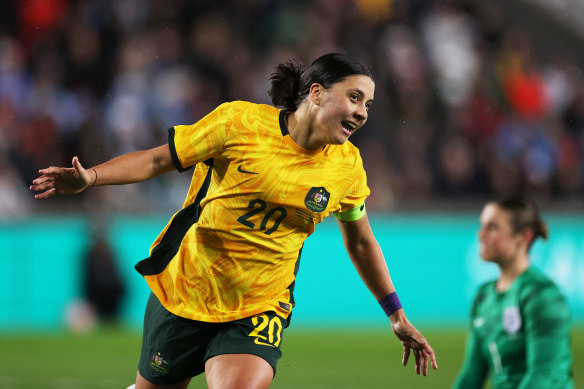 Australia will face Taiwan, the Philippines and Iran in the second round of their Asian qualifiers leading up to the 2024 Paris Olympics.
Those games will be the Matildas' first appearances in Perth since a friendly against Thailand in 2018.
Perth will host five group games during the upcoming Women's World Cup, but the city has been overlooked for any Matildas or knockouts.
That means Olympic qualifiers in October and November will be a rare opportunity for Perth fans to see Cole in action.
"No matter where you go, people don't mention Sam," Brogan told reporters in Perth on Thursday.
"She's put football on the map here in an AFL-dominated state. It's something we all need to keep growing.
"I know she's got a lot going on after her brother's (West Coast's Daniel Cole) career, but I do think she's on her own.