Waratahs assistant coach Chris Whitaker, who was the team's central defender on the night, said the loss had only been mentioned in recent days.
"We have Berkey [former Waratahs skipper Matt Burke] Helped kick here last week. He reminded everyone of that story.I strongly disagree [resting players this week] …that's why," Whittaker said with a laugh.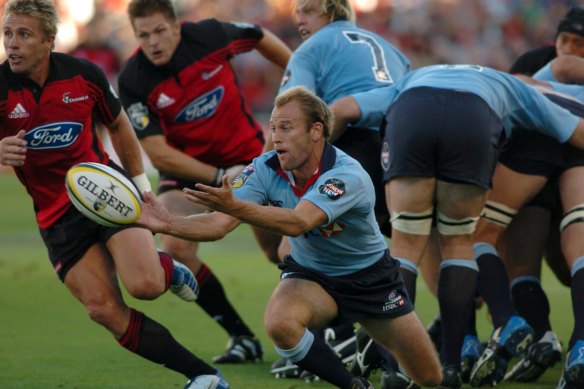 "That's what can happen. A team like the Crusaders, [give them] Any type of opportunity, they can grab it. If we rest some people, we believe this will not happen again. I think it would be a shame if we were to rest anyone in an attempt to break the momentum. "
Burke confirmed to the masthead that old injuries from 2002 have been revived and it is good to see NSW naming a strong squad this weekend.
"We were all laughing," Burke said. "There are breaks and there are no breaks. Sometimes you need to go out there and dig a bit.
Loading
"We almost got a [losing] Even if we lose by 77 points, we get bonus points. "I was on the plane home thinking, 'How do we get into the mindset before next week's semi-final?' I figured we'd walk out of the airport together in uniform. I told our media manager about it… and he said, 'Dude, Good idea, but I've got Bob out of another airport exit'.
"We went out [to face the media] As a bunch of disheveled people. Mat Rogers was doing an interview, and then when I came out, they all ran up to me and stuck the mic up to my face. All the best plans are gone. The following week, we were beaten 51-10 by the Brumbies. "
The Waratahs have a new center forward in Moses Tuipulotu and Joey Walton, but their defensive trio of Jorgensen, Dylan Pietsch and Mark Nawaqanitawase remains the same. NSW has not won in Christchurch since 2004.
"We just feel like it's a shame to change teams again," Whitaker said. "I think these guys played really well last week. Some combinations came together and we started to get into the top form.
"Going to Christchurch was a huge undertaking for us. We just wanted to test ourselves by possibly reaching the top of the game over the past few years.
"We always backed ourselves against the Crusaders. I think we played a similar style of football. I think we were comfortable playing against them.
"There's a good chance we'll be back to play in New Zealand. [a quarter-final] in a few weeks. This is a good test for us. "
watch all the action Pacific Super Rugby Every match is ad-free, live and on-demand urban sports.