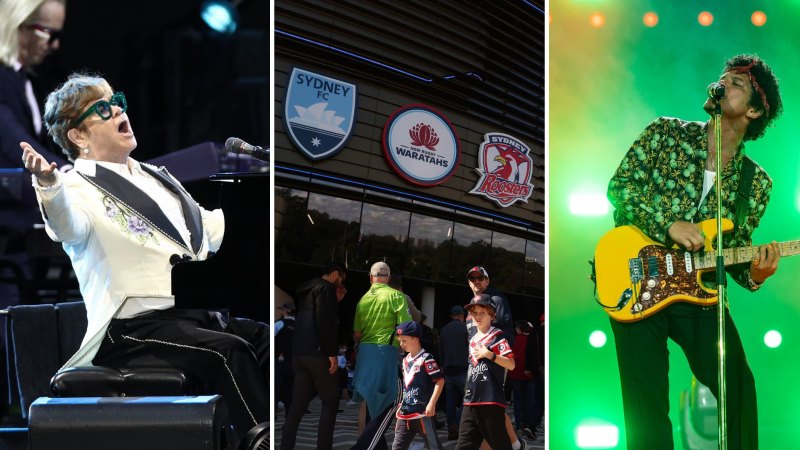 Loading
NSW Waratahs chief executive Paul Doorn, who previously held the same role at Venues NSW, says scheduling and turf issues are two of his club's biggest concerns – noting the latter is a bigger concern for Sydney FC, the Socceroos and the Matildas — and suggested that tenant clubs should get better lease terms if more concerts would improve the state's bottom line.
"Ultimately, if the stadium has the ability to make more money from concerts, and as one of the main users of the facility, we want to think about whether we can look at ways to increase costs – would it be effective for clubs to play there?" He said.
"I understand the whole nighttime economy, and I'm a big advocate for governments to give opportunities for more things to happen to create a vibrant global city. But at the same time, there are some possible unintended consequences that have to be considered."
Venues NSW chairman Rod McGeogh said he first heard of AMPS's complaint when the masthead lodged a complaint with him.
"I think we're jumping in the shadows before we need to," he said. "As far as I know, [the concert cap] It still needs to go through planning, submitting materials and so on, but the government's position is clear: these facilities serve the public of New South Wales. We think around 20 is a reasonable number.
"Another aspect that NSW venues have been focusing on is the huge challenge around content, and the aspirations of everyone from government to everyone [the stadiums] If possible, they would end any fiscal year with no deficit.
Loading
"Obviously, we're going to do everything we can to make every one of our sporting participants happy, want to play there, etc. We don't know what's in front of us yet. But competing with their aspirations is keeping these The fact that something is economically viable."
In Newcastle, there is a separate stand-off between the NSW Stadium team and A-League club Newcastle Jets, who could face a two-month stoppage due to November's supercross event at McDonald Jones Stadium. The Triple Crown of Australian Supercross Championships was also held at the same stadium last year, but required a new turf field, which one source said cost $1 million — the resulting ground was rough and not on par with the Jets. Coordination's ambition to play a style of possession-based football has drawn strong criticism from coach Arthur Pappas.
To avoid a similar situation, the Jets said they were told they may not be able to play there for up to two months while the stadium is fully repaired.
With Newcastle without another suitable venue to accommodate the club's 7,500 members, A-League sources fear it could have a fatal impact on the Jets, who have been ownerless for the past two years and backed by rival clubs. The Australian Professional League is seeking new ownership.
Jets executive chairman Sean Mattisker said: "This has had a major impact on our fans, members, company and the club as a whole and we are working with the NSW venues to understand whether it is necessary to close the stadium for two days. If that is the case, how will Venues work with us to find alternative arrangements and deal with the cost and financial impact the club faces."
A spokesman for Venues NSW said they were discussing their options with the Jets and that the same "ready-to-play Matrix turf" resurfaced last year was again available.