Curry's Frank N Furter can seduce your nipples, and Donovan's version of the character struts around, showing us an embodiment of a more pathetic creature. He's still commanding the stage during big numbers, but this Frank's predatory antics inspire more mixed feelings in the wake of #MeToo.
The power imbalance on stage was shocking and disturbing, and the self-criticism of the musical theater industry permeated the show.
Here we have a big-name celebrity (arguably a bit long in the teeth for this part) pulling out all the stops in a group of young, talented up-and-comers. Donovan bravely uses the meta-narrative to shift the show's sympathetic balance.
I don't think I've seen a production that makes you work harder for Frank's victims than this one. For the muscular himbo (Loredo Malcolm), he creates a sex slave. For hapless sexual naives Brad (Ethan Jones) and Janet (Deirdre Khoo), he performs obscenities. For the rock-and-roll bad boy (Ellis Dolan), he first seduces, then murders.
When crazed alien servants Liv Raff (Henry Rollo) and Magenta (Stella Perry) pointed their death ray at their master, you were totally on their side, partly because of this Loki is held together by the supporting cast.
In the end, their infectious, vocal, and camp comedy flair really stole the show, and anyone who's ever enjoyed this subversive cult classic should be delighted to see them in action.
Reviewed by Cameron Woodhead
theater
Crocodile ★★★★
Northcote Guildhall Arts Centre, until 4 June
An old woman named Helen (Marta Kaczmarek) is lying on a single bed. She is in a nursing home. Her children were by her side, trying to coax her. Her memory is rapidly fading. She's making incredibly ridiculous statements while still seeming to retain her ability to slip into disputes with brutally honest insights — as if she's using her dying days to finally allow true madness.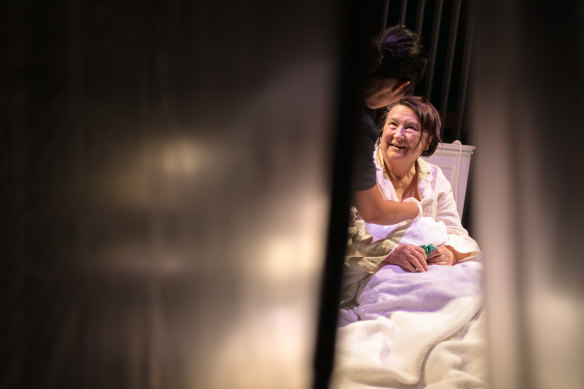 Not long after, support worker Sandhya (Rachel Kamath) came in pushing her trolley. She's generally ignored and treated like some kind of robot — a bit of a distraction, but totally necessary. The scene changes, and we witness hauntingly intimate conversations between Helen and Sandia, who confide in each other, even as they strictly adhere to socially-approved roles.
Loading
Later, we encounter more personal breaches: between friends and former colleagues Sandhya and Neela (Shamita Siva), and between Indian-Australian doctor Priya (Siva again, performing an impressive double duty) and her white Australian Between boyfriend James (Tom Dent). Something bad is brewing just below the surface.
This is the new play by multidisciplinary artist Vidya Rajan, Crocodile, It takes a central conceit – how paramedics, international students, migrants and the dying are constantly overlooked in Australian society – and spins it into something utterly compelling, biting, and humorous.
At this point, it's Rajan's trademark. Her extensive experience with screen and comedy writing comes in handy here: the dialogue is terrific and well timed. At one point, Helen remarked, "They look like turnips," referring to her breasts when Sandhya bathed her. When Neela is appalled by the way Australia treats seniors compared to India — "We'll never do that" — her rhythms seem to answer.
Of course, it's not just good writing that makes a drama interesting. Kaczmarek, Kamath and Siva play their characters with aplomb – we're fully immersed in the depths of their hearts as they go about their (non-) lives: whether raving in bed, in an isolated but Worrying about the future in a suffocating shared house, or faking optimism as a temporary resident experiences a state of uncertainty.
when Crocodile Going into the final scene and ending, it's a surprise. There's a sense that it's not quite finished, and that it's "still a work in progress," as director Marcel Doni warned before the show began. However, the producers don't seem to cut it for lack of content. I'm dying to see the next episode.
Commented by Cher Tan
music
Russell Crowe's Indoor Garden Party★★★½
Cherry Bar, May 24
Watching Russell Crowe's band Indoor Garden Party live in the cramped space of the Cherry Bar, the word "indulgence" popped into mind – and not just because he's only recently appeared on the big screen Pope's Exorcist.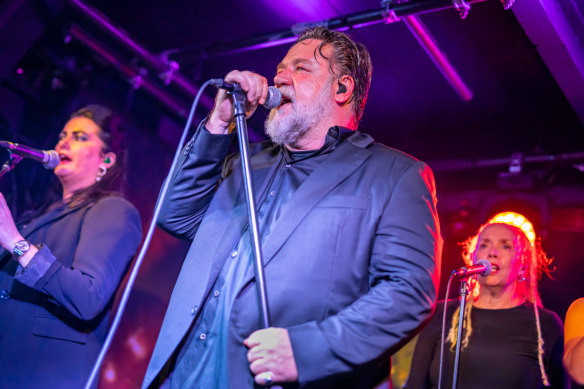 There's a sense that Rusty is obsessing over his long-held rock god fantasies, that the band is obsessing over him, that there's an entire exchange of devoted believers and purely curious people, and most of all, it's only because Crowe is interested in funding it .
Good for him, I would add.
This show is more entertaining than it should be. The original works of this lineup and Crowe's old unit TOFOG (Thirty foot grunts) and a bunch of eclectic covers drew interest, even if Rusty didn't always keep the notes he was striving for.
He takes regular breaks from the stage and gives Irishwoman Lorraine O'Reilly space to showcase her sizable vocal cord. When he does, the vibe changes from laid-back bar rock to desirable stadium.
The five-piece band is tight, and the four female backing vocalists (O'Reilly and three others Crowe introduce only as "The Lady Garden," to the chagrin of one woman in the crowd yelling "they have names, you know") soothe Cracks in Crowe's delivery.
Trumpets and keys add a level of production you might not expect in a room of this size. Cover Choice – Dire Straits' Romeo and JulietNick Cave into my armsSimon and Garfunkel hazy winter dayLeonard Cohen dance the waltz – The band played brilliantly and made the whole show feel like the highest end karaoke night a man can dream of.
It says it all, when Crowe returns to the stage and asks the audience to choose a song or a story, they overwhelmingly choose the latter. He tells the rambling but well-known story of a tarantula crawling up his body and into his mouth over and over again on the set of a movie. It elicited a good laugh, and he went back to singing in his raucous way, clearly having the time of his life.
When night falls, a cheerful performance folsom prison bluesCrowe told us he used to play buskers in Sydney as a teenager, and obviously other people had balls too.
Reviewed by Carl Quinn
An indoor garden party will be held at the Esplanade Hotel on May 25th.
Booklist is book editor Jason Steger's weekly newsletter for book lovers. Receive every Friday.