Dolphins winger Jamayne Isaako celebrated his 100th NRL game with a fine performance in a 26-12 win over St George's Illawarra.
Isaako extended his lead as the NRL's top scorer this season with two tries and five goals at the Kayo Stadium in Redcliffe on Thursday night.
Anthony Milford, one-fifth, had one of his best games in a Dolphins jersey, scoring his own goal against an underwhelming Dragons, who were in no Inspirational captain Ben Hunt fumbled to beat them.
Both sides gave their respective coaches palpitations at times with substandard decision-making and ball possession, but the Dolphins had a solid spine, with key contributions from Milford, linebacker Cordini Colima and hooker Jeremy Marshall King.
Playing into the corner, Milford was easily the best playmaker on the pitch, showing the class that once had him representing Queensland.
Edge isn't usually the most valuable player for an NRL team, but Isaako is proving that to be the case for the Dolphins.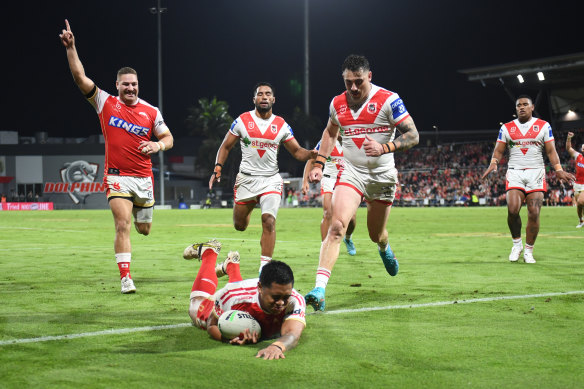 Coach Wayne Bennett said before the game that the 26-year-old was "reborn" after a few years in the doldrums. He's now scoring 138 points this season.
The win cemented the Dolphins' spot in the top eight and kept the Dragons in last place as they await the expected signing of Jason Lyles as head coach in 2024.