Peterson says connect is "Really Special", which took two years to create and features a score by Aboriginal musicians including Yothu Yindi, Baker Boy and Archie Roach.
"It's so colorful and vibrant, great storytelling and movement," he said. "What's really unique is that this is the first time all these artists have come together and agreed to be a part of something."
Co-curated by the National Museum of Australia, the experience will utilize The Lume's 143 high-definition projectors to display artworks across 3000sqm of gallery space at the Melbourne Convention and Exhibition Center in South Wharf.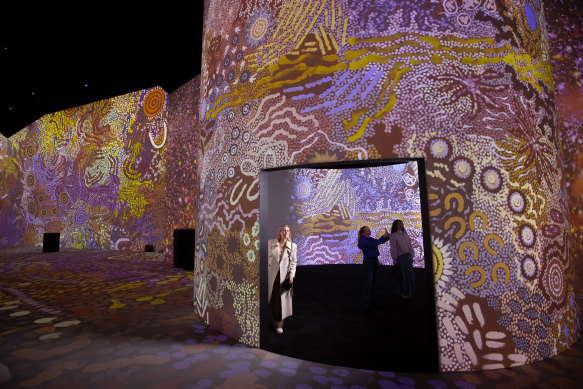 "We think this is a really important Australian experience for all Australians, especially at this moment," Peterson said. "It's something that all Australians can be proud of and focus on our Art and culture, it's really top notch, on par with Vincent van Gogh and Claude Monet. It's very emotional and I think when people walk in and see this is ours, they go Overwhelmed."
The global popularity of immersive experiences is being driven by a confluence of trends, social media sparking interest among tourists to film and film themselves in visually spectacular environments, continued advances in digital video and projection technology, and the availability of real estate for large empty pieces. Accommodate post-COVID-19 experiences.
they are everywhere new york magazine Describing the immersive experience as reaching a saturation point "in the nebulous zone of high art, tourist junk and the two in between".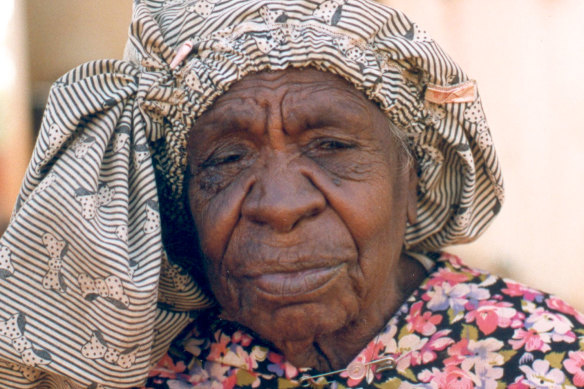 It's a lucrative murky area, and while Peterson won't reveal how much Grande Experiences makes from its shows, tickets are pricey, starting at $44 for the Lume in Melbourne.
That's $44 more than free admission to NGV Australia, where the real Emily Kame Kngwarreye hangs on the wall.
"It's very different from the traditional gallery-museum experience," Peterson said. "We think it does a good job of enhancing the cultural appeal of the arts for those with little or no experience in the field or who are new to the field."
Loading
Both traditional art galleries and immersive experiences like The Lume can play a role, Peterson said.
"Nothing will replace the original, don't get me wrong," he said. "We're finding more and more art connoisseurs who really understand our approach.
"We redefine the way the masses experience art. It encourages them to enter the arts and culture field, which leads to more tourists visiting the NGV and more."
Eora Nation's Gadigal featured artist Kate Constantine said the immersive experience was the perfect way to showcase Aboriginal art.
"technology connect Use breaks down many barriers to entry," Constantine said.
"A lot of people love Aboriginal art because it's colorful or beautiful, but there are also a lot of people who are challenged by Aboriginal art, don't know or understand how to interpret it, or don't feel like they're allowed to be a part of it. The connection is so inclusive" .
monet and friends alive Ends June 4th, connect Opening on June 23 Room Hotel MelbourneMelbourne Convention and Exhibition Centre, South Wharf.
The Morning Newsletter is our guide to the most important and interesting stories, analysis and insights of the day. register here.