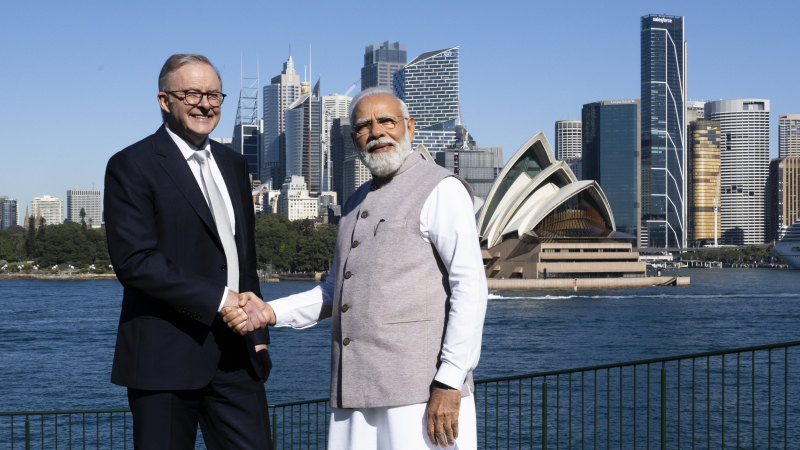 NSW Arts Minister John Graham is now considering revising the policy to limit the types of events eligible for lighting, while supporting the lighting of sails at important arts, community and cultural moments.
A spokesman for Mings said the Prime Minister's Office had made the request directly to the Sydney Opera House, at the federal government's expense.
Lighting costs are understood to have ranged from $10,000 for a monochrome obtained using gel on the Opera House floodlights to over $50,000, depending on the complexity and duration of the lighting, and whether the images required the design and projection of overseas passengers terminal.
The sails of the opera house have begun to be regularly lit due to important national days (Indian Independence); international festivals (Diwali, Indian Festival of Lights, Lunar New Year); military invasions (twice in Ukraine); sporting achievements (Beijing Winter Olympics) and Australia's soft diplomatic interests (ANZUS treaty anniversary).
From Queen Elizabeth II to Olivia Newton-John and former Japanese Prime Minister Shinzo Abe, as well as police officers and paramedics killed in the line of duty, the deaths of prominent leaders and citizens are increasingly under fire for the state's most treasured culture. Asset's Forecast Impact.
The Morning Newsletter is our guide to the most important and interesting stories, analysis and insights of the day. register here.
Subscribers to The Sydney Morning Herald can enjoy buy two, get one free tickets to the Archibald, Wayne and Suleman Awards exhibition at the Art Gallery of NSW in June 2023*. Click here for more details.