Richmond coach Damien Hardwick insisted earlier in the week that the Tigers could turn things around despite a disappointing start to the season with just one win.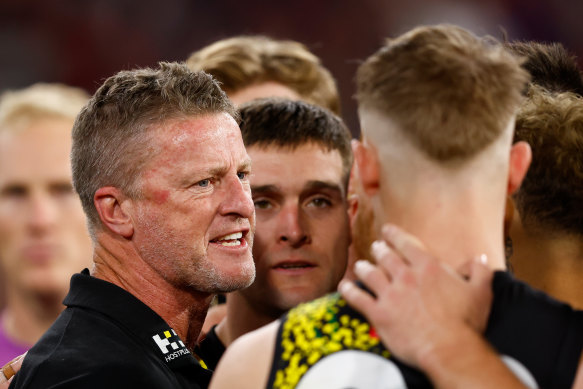 "Narrative is part of the AFL landscape. We understand that," Hardwick said on Thursday morning.
"Look, our position on the ladder might turn it on [but] The truth is we're going to change it, change the narrative, win some games, that's our responsibility. "
Knowing where a club is and where they can get better makes for exciting work, even in difficult times, he says.
"So while it's a dark time in the win-lose column right now, there's been some little gold spots along the way. You know, Samson Ryan, for example, some of our young players get opportunities that they didn't get before.
"So, we think that's going to keep us in good shape, but we've got to make sure we start picking up a couple of wins along the way."
He said that while they haven't been good enough in the first third of the season, they believe they have what it takes to keep the game going.
"We have every confidence that once we start playing and start playing, we hope this week [against the Eagles], we'll take some momentum out of it and play better for the foreseeable future. "
West Coast can provide the first momentum because they are a beatable team at the bottom of the ladder. However, Richmond is just two grades above them at 16th.