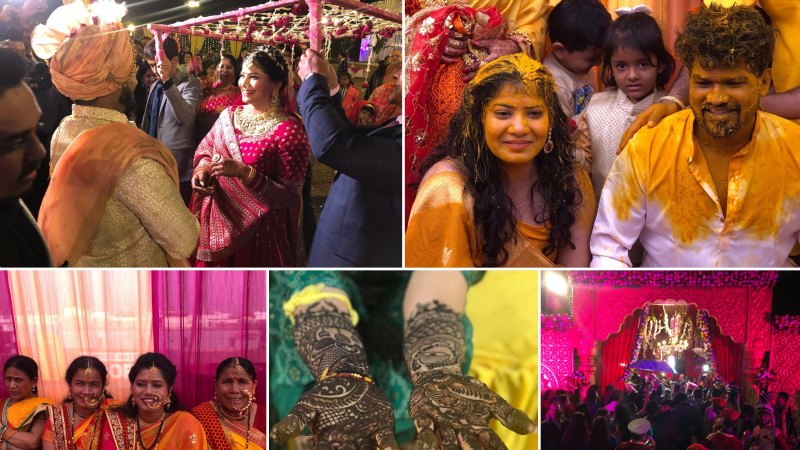 I always cry At the wedding. 18 years ago, I cried for myself, and I have cried for everyone since. I remember how overwhelmed I was – not just because of the countless preparations and inevitable tension, but how powerful the love that surrounded me and my new wife was. This is something I didn't plan.
Of course, my South Indian mother was always planning.when we saw the movie in 2001 monsoon wedding, she grabs my arm and swears, "Your wedding is just like that, but with better catering." And it is! When we got married in the local bowlo at Clovelly in Sydney's east, on the water, we had samosas with lamingtons, and our Hindu vows were spoken in English.
Our wedding meant a lot to her, and her own wedding in particular—a "love marriage" when most people had arranged it—had been a sneaky affair. My father's people were unwilling to come, and after a few years, he left her.
Mom attended as many family weddings as she could until she couldn't travel. So when my cousin's son, Ved, announced his engagement to Kanika, who hails from Uttarakhand, a state bordering Nepal and Tibet, we promised Mom that we would go in her stead. Like hers, like mine, Wade and Kanika's marriage was a love marriage.
My parents immigrated to Australia in 1973, the year before I was born, and although I've been back to India every other year for as long as I can remember, the only wedding I've ever been to was for Ved's parents Yes, back to 1982.
South Indian weddings, while extravagant, cannot be compared to the pomp and pomp of North India. My teenage daughter needed a different outfit for each of the four ceremonies over three days. I was in a bit of a hurry to go because my wife couldn't come with us.
The night we arrived in Kanika's hometown of Haldwani, we reconnected with family members, some of whom I hadn't seen in four years. My Sydney-born daughters were both baffled and fascinated by this intimate group of strangers.
At Kanika's home the next morning, women in bright orange, red and yellow saris and gold jewelry sang obscene traditional songs, and brides and grooms slathered in turmeric for good luck. Excitement was everywhere, and my girls joined in, just as confused as I was about what they were going to do. But there is always someone smiling and pushing us in the right direction.
That night, the girls, along with the bride and other women, adorn their hands and feet with intricate mehndi (henna) designs, and the groom's name is hidden in the bride's palm for him to discover on their wedding night. The honeymoon is said to last as long as the mehndi.
Of course, I cried. Not only did I think about my wedding with my mother, but my daughter's, naturally.
The next day, we headed to the nearby Marigold Wedding Hall for a sangeet, a pre-wedding party where the ladies dance to a variety of energetic and romantic Bollywood hits. It's almost a spectator sport between young girls looking to woo potential suitors and sassy aunts showing them how to do it. Before they posed for a photo together, Ved sang a tender song to his bride. Of course I cried.
We changed again and I cried again – tears of pride at the sight of the little girl I was and now the beautiful young woman in my grandmother's sari, so resplendent. As we shared our wonder—and occasional confusion—in the quiet moments between celebrations, I felt closer to them.
Loading
A raucous band in faded brocade took us up to the bharat, accompanying the noisy procession of the groom to his nuptials. The girls cheer and dance with abandon like their newfound family. When we were wreathed and taken to the reception, Ved and Kanika came together amidst lights, flowers, music and cheers, tense and happy and young. Lines of well-wishers stuffed their palms with money. The wedding took place at what should have been an auspicious time… 2:30am.
I video-called my mum to show her around the mandap (wedding pavilion) and she waved to family members she hadn't seen since her last visit in 2018. She kept asking me about the ceremony, the bridal sari—and the reception, of course.
With the chanting of the Sanskrit word slokas (lines of poetry), the sacred fire on the central altar was lit and the knot finally tied, we all cheered as Ved and Kanika took one final turn around the fire circle as husband and wife, something we were eagerly awaiting. Hope and love enveloped them in a starry dawn. Of course, I cried. Not only did I think about my wedding with my mother, but my daughter's, naturally. Who will they marry? Will they get married?
If they are as lucky as me and find someone who loves their mom as much as I do, I can't guarantee that dining will be like monsoon wedding, but I can assure their families, Australians and Indians, of the same overwhelming, abundant love. I will cry at the end. I am crying now.
read more have a good weekend magazine, visit our page sydney morning herald, age and brisbane times.