As far back as 1951, newsroom journalists were locked up with secret budget papers, spinning stories for newspapers and the next morning hyping a "budget of terror" that would raise the price of everything Australians hold dear.
age Calmly reported that "the magnitude of the tax increases heralded in Fadden's budget is staggering".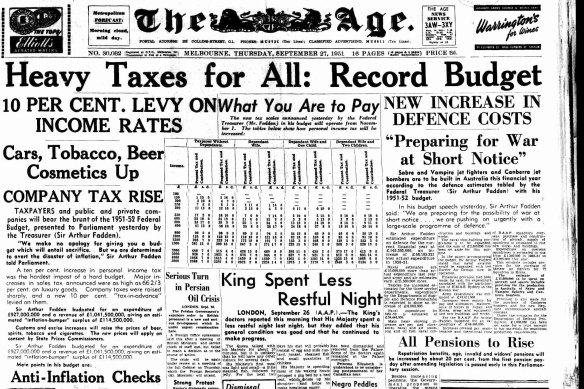 Others dealt with drinkers' costs bluntly on the front page: "A 10oz glass of beer, now 8p, will cost 10p or 10.5p;" schooners up 4p or 4.5p; brandy, gin, whiskey and rum for 2p. A bottle of beer goes up 5p. "
But while locked-up reporters prepared these stories, lawmakers were free to roam. In the late afternoon, government MPs gathered for a pre-budget briefing from Treasurer Arthur Fadden, newly knighted but more commonly known as Artie.
Alan Reid, the legendary press box reporter known as the "Red Fox", heard about the budget day rush for members' pub stock. He poked around and found that MPs had somehow learned at Fadden's briefing that excise taxes on beer, spirits and tobacco would be increased.
Furious, Reid delivers his revelation in Sydney sun.
Rob Chalmers was a 21-year-old journalist covering the now-defunct Sydney daily mirrorNew post to the Canberra News Gallery.
Chalmers remained in the gallery for the next 60 years, covering 12 prime ministers.At the end of his life, he wrote happy history known as Inside the Canberra press gallery: Life inside the old Parliament House wedding cakehe recalled the barroom blitz.
"Insider trading was a little-known term at the time, but it was a perfect fit for the situation," he wrote.
"In a savage article designed to stoke the ire of voters, Alan Reid reports on this serious speculation in Sydney sun.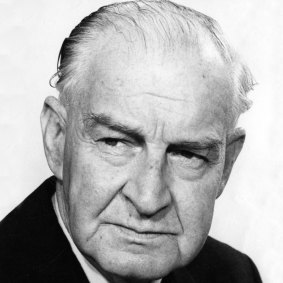 "Reed also accused MPs of running Parliament as a club solely for their own benefit. At that time, beer was in short supply and pubs limited sales of bottled beer to their regular patrons' weekly quota.
"Reid's view is that non-members" [journalists'] Bars ration these hard-to-obtain items, including cigarettes, while membership bars have no restrictions on sales to MPs.
"Reed reports a Sydney-bound MP's car was so full of beer that the rear spring snapped."
Predictably, lawmakers were outraged by the red fox's disrespectful behavior. An investigation was ordered, but there was no investigation into the conduct of MPs, who were operating within the budget. of course not. Here's Reid's report.
Press box reporters expect Reid and Sydney sun Staff will be kicked out of parliament. Worse, they worry that vengeful MPs will ensure that the journalists' own taverns, the non-members' pubs, are closed to them all.
In fact, that's exactly what MPs think, and they've ordered an investigation by the powerful Commission of Privileges.
One of the terms of reference calls for the committee to examine "the advisability of continuing to extend the privilege beyond members of Parliament".
However, as sentiment cooled, the committee decided to retain the privileges of the media booth, which included Reid. The truth is, many MPs prefer to drink in non-member pubs, where news can easily get leaked.
At the same time, the Press Office passed a resolution declaring that " [Reid's article] is correct".
Ultimately, the Privileges Committee conceded that the article was not "completely untrue", but argued it was exaggerated and conveyed a false impression of the MP's behaviour.
It ruled that there had been a breach of privilege, but declared that "it would be better for the House to preserve its dignity by taking no further action on this matter".
In other words, it's best to bury the whole thing to avoid further embarrassment.
When journalists enter the budget-locked area of ​​the Capitol next Tuesday, hand over their phones and sign documents promising not to divulge a single word they've learned until the treasurer stands up to make a formal speech, sadly , the liquor tax levied to fight inflation those days is unlikely to grab the headlines…or cause a new stampede on members' pubs.