In Berlin in 1931, the poet Amy Keller gave birth to Lilith, the son of a black jazz musician, Marcus. Marcus disappears, Amy is terrified of her biracial daughter as the Nazis take over her, and Amy convinces a Jewish couple, Beatrice and Albert, to take Lily Silk took them to Cuba. Lilith grew up there, married a Cuban, and had a daughter of her own, Nadine. But when Fidel Castro seized power during the revolution, her husband had a target on his back, and when he was arrested, she arranged for Nadine to be smuggled away and adopted by a couple in the United States. As an adult, Nadine works in Berlin, and with her daughter's encouragement, she unravels the hidden truth about her biological parents. Armando Lucas Correa weaves a moving historical saga from threads of persecution, guilt, sacrifice and survival.
search history
Amy Taylor, Allen & Unwin, $32.99
When Ana moves to Melbourne after their breakup, her life seems more like reality than reality. Working at a tech start-up, she develops a dating app on her own with questionable results. Suddenly, she meets Evan – likable, sane, financially secure – and in every way the polar opposite of her previous dating experience. When she finds out that Evan's former partner Emily died in a hit-and-run, she can't help herself. Hyper-curious and insecure Anna lets her digital obsession get the better of her, as she rummages through old social media accounts to uncover the perfect trajectory of Evan and Emily's life together. perfect? How did Emily die? Why didn't Evan discuss it with her?Billed as a romantic psychological thriller with hints of Daphne du Maurier Rebecca, Search History Should resonate with those who have trouble online (which I imagine is most people). Alas, its plot isn't as clever or half-gothic as its inspiration, and the disjointed, self-involved narrator is written in a loose manner that becomes out of place after a while.
Non-Fiction Picks of the Week
Standing tall: One mother's fight to bring the Catholic Church to justice
Chrissy Foster and Paul Kennedy, Vikings, $34.99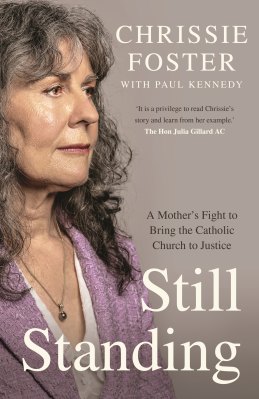 In the late '80s and '90s, Chrissie Foster's daughters, Emma and Katie, were sexually abused by a Catholic priest in elementary school. Emma then took her own life in 2008. Katie turned to alcoholism, was hit by a car, and is now confined to a wheelchair most of the time. Chrissy Foster's 2010 book, Hell is on the way to heaven, is about those horrific events, which portrays her quest for justice. Driven by rage, the story is harrowing, but the storyteller is unflappable and strong enough to stand up to the seemingly omnipotent Catholic Church. Her case was the one that prompted a Victorian parliamentary inquiry, which in turn prompted Julia Gillard to announce a royal commission in 2012. A chronicle of a righteous warrior, as well as a personal, humane work, she described hearing the nation's apology, and it was even more moving for Gillard to sit by.
The Rise and Fall of Modern Democracy
Damien Kingsbury, Routledge, $73.99
While University of Melbourne academic Damien Kingsbury argues that democracy, for all its flaws, is the best system, he also argues that it is in decline and has been since the end of the Cold War.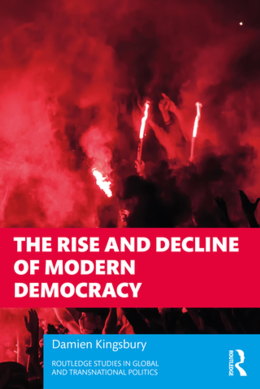 The son of the Enlightenment, the successful marriage of capitalism and liberalism, the golden age of democracy is over. In the post-Cold War world, fewer and fewer developing countries are becoming democracies for a number of reasons, including the complacency of a triumphalist West following the collapse of the Soviet Union. And, in established democracies, the rise of right-wing populism is challenging key tenets such as election results. The "democratic regression" is particularly evident in Europe, post-communist countries, most notably Russia's brief journey from autocracy to democracy and back again. An academic study, so dense at times, but a worthwhile one.
Dispatched from Berlin, 1943
Anthony Cooper and Thorsten Perl, NewSouth, $34.99
In late 1943, Bomber Command invited five journalists to take part in the raid on Berlin: two Australians, Alf King and Norm Stockton, two Americans, including "Goodnight and Good Luck" de Meurau – probably the most famous journalist of his time – and the Norwegian poet Nordahl Grieg. They all jumped at the chance. Only Kim and Murrow returned. Anthony Cooper and Perl, who is based in Germany, detail the events of the night – the anti-aircraft guns, the horrific parachuting and the chaos of being hit – often using reports from Allied and German aircrews . The entire exercise was Bomber Command's attempt to control the propaganda narrative. Although Stockton and Grieg were killed with the help of German night fighters, Bomber Command was given a morale booster story, with Murrow describing the scene over the "big city" as "a well-orchestrated hell."
stop oil
Sophie Bond, Amanda Thomas and Gradon Processed, MUP $30
This may be a study of grassroots, environmental activism, but the writing (and sometimes unnecessary jargon) is anything but grassroots. The co-authors examine New Zealand's experience in combating deepwater oil drilling in detail, with an emphasis on the oil-free campaign. But they also place the experience in a global context, exploring the links between neoliberal capitalism, colonialism, and institutional/government resistance to securing a fossil-free future. Among other things, they focus on the complicit media for "delegitimizing" dissent and the police for "dehumanizing" protesters. But in the "spirit of change" of democracy, the future is also full of hope. This is an important exchange at an important moment, and a lot is unfortunately lost in the academic presentation.
Booklist is book editor Jason Steger's weekly newsletter for book lovers. Delivery every Friday.