the first thing When you walk into A-esque's Richmond headquarters, the first thing that strikes you is the aroma of leather. Good skin. Supple Italian leather. As a child my grandmother said in her thick central European accent, "Smell it. They don't do it anymore."
When A-esque founder Amanda Rettig, dressed head-to-toe in black, plopped down on one of the two sofas (black leather, of course) in the middle of this open warehouse, I took a deep breath. We're located in inner Melbourne where there are designer furniture stores, cocktail bars and MCGs – but fashion businesses are few and far between these days due to high property prices.
The space is divided into regions. Up front, hooks and shelves display bags of different shapes and sizes, from pillow-style clutches that fit snugly under the arm, to boxy ones that hold everything from laptops to sippy cups handbag. At the back, metal shelves are lined with leather rolls. There's a bookcase full of binders—one for each style in the Category A catalog. And, taking up nearly half the room is a work area where customers can watch their bag being made in real time (if they want) before taking it home.
This hybrid model of manufacturing and retail feels old and new. It's always been part of Rettig's vision for A-esque, which turned 10 last year, but she's spent the better part of a decade realizing it. The bags used to be made elsewhere in Richmond before being delivered to wholesalers, online customers and the brand's three retail stores in Melbourne and Sydney.
But during the COVID-19 lockdown, Rettig decided to close her store and move everything from retail and manufacturing into this unified space. Her aim is to host 'meet the makers' nights and fashion parades here for her own and other independent Australian labels. The move reflects a global effort by many brands to get closer to customers, expanding relationships beyond impersonal transactions that can now be done from the comfort of customers' couches.
Before our meeting on an unseasonably warm and windy day in April, Rettig texted that the studio was quieter than usual due to the approaching Easter holidays. But when I arrived, it was buzzing: a sewing machine humming, couriers delivering truckloads of leather, and Rettig was chatting to a woman in her mid-30s who was shopping for a small bag. If this is quiet, what does being busy look like?
Loading
Rettig, 52, who has spent most of her life in the fashion industry, started Mimco accessories in 1996 under her original name, Amanda Briskin. After selling her controlling interest to private equity for a reported $30 million in 2007, Rettig spent several years advising other record labels. If she was going to do another bag brand, she decided, she wanted it to be smaller and "quieter" than Mimco, with an emphasis on quality and craftsmanship.
When she launched A-esque in 2012, "logomania" was all the rage, with the luxury brand emblazoning her name on everything from bags to sweatshirts. In that sense, her collection, which has no obvious logo or badge, is a bit of an outlier.
"When A-esque started, it was pretty anomalous in terms of how strong the brand was [as a trend]"Rettig said. "I'm pretty confident it's going to work. It doesn't make sense to me that the average person can only hope for brands owned by the big fashion houses to define their style and accessories. "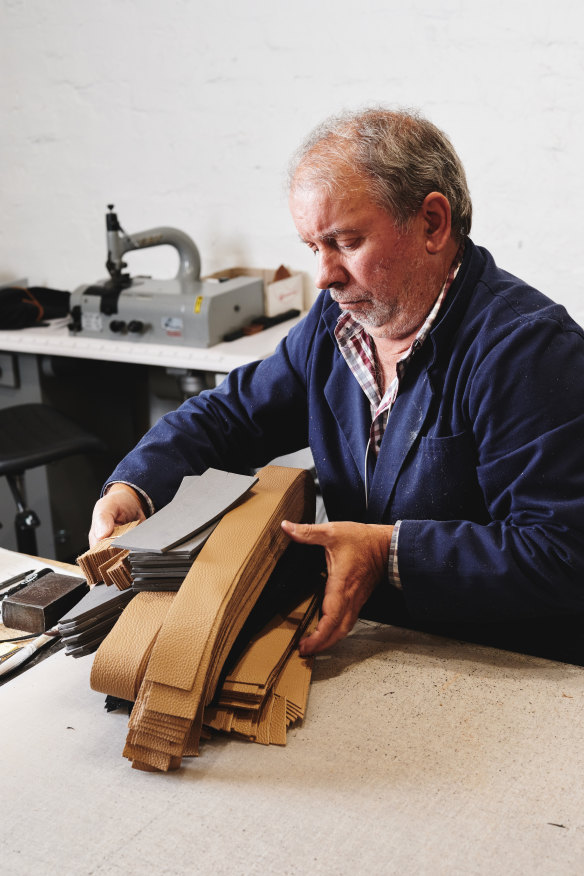 Rettig's hunch was correct. Over the past decade, bags from small independent labels with little or no branding, often priced between $500 and $1,000 — the so-called "affordable luxury" category — have become a dormant popular products.They still make up only a small fraction of the Australian handbag market, with IBISWorld estimating their value $480 million per year. The market is dominated by Strandbags, Louis Vuitton and Mimco. Together with Sunglass Hut owner Luxottica, these three companies account for nearly half of all accessories sales in Australia. But independent producers are a burgeoning niche, especially among discerning women interested in the latest fashion.
Many young women especially gravitate toward brands that eschew the logo and other hallmarks of traditional "It" bags, in part because smaller independent brands tend to focus on sustainable manufacturing. Even in China, where the market for designer handbags is one of the strongest in the world, the number of locally produced "independent" handbag brands is growing.
"We create styles that really fit our clients' lives. Most of them can afford any bag, but it's saying, 'I'm socially conscious. " "

Amanda Rettig
Another thing that ties some of these brands together is a return to practicality.These bags are for those who have something to carry and a place to go, with small bag trend That peaked before the pandemic, when some of the world's most coveted styles couldn't even fit in an iPhone.As further evidence of the utility of this rapid return, in April, global trend forecaster Lyst announced that The most popular styles of the last season: A $20 beige nylon satchel from multinational retailer Uniqlo.
practicality, Wellington-based Jessie Wong launched her bag business Yu Mei in 2015, and despite her luxe tendencies, the 29-year-old couldn't find something she liked when she was studying fashion design at Otago Polytechnic in Dunedin. The bag fits within her laptop and lunch box budget. So she started making them for herself, and then for her friends at the corner of a friend's store.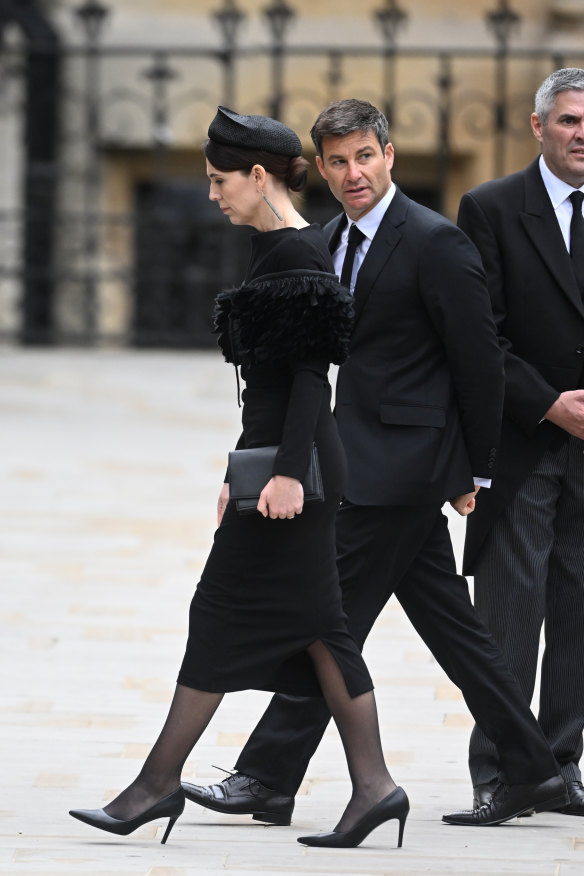 In keeping with sustainability and tactility, most of Yu Mei's bags are made from deerskin, a by-product of New Zealand's venison industry, which Wong ships to a factory in China. Wong says deerskin has the strength of cowhide and the softness of lambskin while being lightweight, making it the ideal material for her larger styles, which retail for around $1,500. What Wong finds interesting about her clients (including former New Zealand Prime Minister Jacinda Ardern) is that most of them can easily afford pricier bags, yet they choose to carry bags that align with their values Something less flashy that resonates.
Like Rettig, Wong is trying to foster community through a free membership scheme that offers events at her Auckland and Wellington stores. "We create styles that really fit our clients' lives," she says. "Most of them can afford any bag, but it's saying, 'I'm socially conscious.' "
Another Kiwi brand with a strong social conscience is Deadly Ponies, which graphic designer Liam Bowden founded in 2005 as a way to teach himself new skills. He started making jewelry and bags in his garage in Auckland; the closure of a nearby tannery eventually forced Bowden and his business partner and now husband, Steve Boyd, to open their own factory in northern Thailand in 2020.
Loading
Deadly Ponies details on its website where each material comes from, from calfskin to mohair. Today's customers demand such information, Bowden noted; labels cannot treat transparency as an afterthought. Among other initiatives by the company, customers receive a $50 store credit for returning Deadly Ponies bags beyond repair, which are then refurbished or disassembled and recycled into other merchandise, such as beanbags, keychains or earbud holders. "them [Gen Z] When you want something of high quality, there's the sustainability factor—knowing where something is from, it has some intrinsic value to the product," says Bowden.
deadly pony It recently expanded into footwear, starting with 15 Portuguese-made boots, mules, and slippers priced between $450 and $800. But not every brand wants to diversify. After expanding Mimco into jewelry, sunglasses and shoes, Rettig wants A-esque to remain the bag specialist.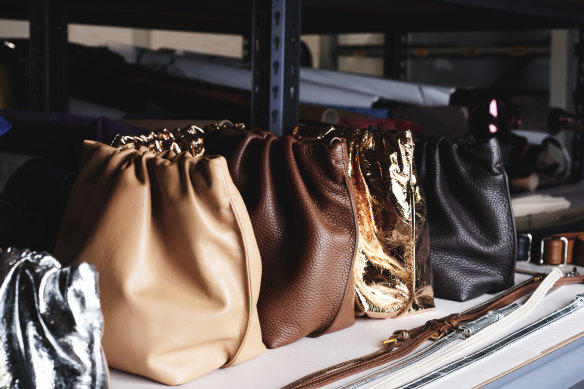 Likewise, Bonnie Davis is cutting back on her label, Dylan Kain, which she launched 11 years ago with the goal of making functional, elegant bags that "look expensive" but cost a few hundred dollars Bag. Manufacturing costs in Australia have proven prohibitively high. After considering several options, she settled on China, where workers trained in Italy produce the bags, which are then sold online and in department stores. Their branding is minimal, but the bags can be identified by the silver hardware in the form of Roman numerals I and II, which refer to Davis and her two sisters, one of whom is surfing champion Stephanie Gilmore. The range started out small, but over time it swelled into an array of colors and shapes that didn't fit the spirit of the brand, Davis said. She is editing the range back to the six core styles. "In the next five to 10 years, I want to get back to what we know … Otherwise, you just end up homogenizing with your competitors," she said.
"at this [economic] climate, we see more focus on buying [cheaper] Leather goods, such as chain wallets. Customers are shopping at more affordable price points for luxury designers. "

Bridget Veal
Restoring the distinction of these brands from their multinational rivals is a smart move in difficult economic times and may finally suit boutique players at reasonable pricing. Bridget Veals, general manager of women's wear and accessories at David Jones, has been studying the upward trend in the $500 to $1,000 handbag for years. She said Australian and New Zealand brands were doing well despite strong international competition. "at this [economic] climate, we see more focus on buying [cheaper] Leather goods, such as chain wallets. Customers are shopping for more affordable prices from luxury designers," she said, adding that tote bag sales had surged as people returned to working in offices after the lockdown.
Liam Bowden of Deadly Ponies has noticed customers are also becoming pickier and taking more time to commit to a purchase. "Maybe it's less impulsive," he said. For those who advocate quality, longevity, and so-called "slow fashion," this can only be a good thing.
read more have a good weekend magazine, visit our page sydney morning herald, age and brisbane times.