I recently bought a cafe in a seaside town. I love the hospitality of the locals, but have a hard time accepting greetings like "dear" and "love". I'm looking for a response that doesn't offend.
Anonymous, Vic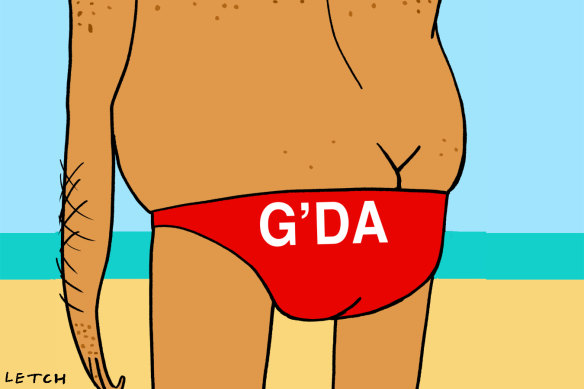 A: As you now know, Australia's seaside towns are mysterious time travel portals. The moment you drive into it, you're transported back to the 1970s.Your hybrid car becomes a leaded car, your skinny jeans become flared polyester slacks, your CarPlay podcast becomes an Air Supply song all loveyour seat belt disappears entirely, and you find yourself steering the wheel with your knees, a Winnie Red in one hand, a Glug Coke in the other, and a kelpie on your lap.
Everything about this Australian seaside town has a 70s vibe. Dusty old cake shop with nothing in the window but a slice of vanilla and 600 dead flies. A cream-brick motel where everything in the room is bolted on, including the pillows. A Chinese restaurant with a sign that says "serves steak and chips" is bigger than a Chinese restaurant that says "Chinese restaurant".
Some of the locals will be 70s-style Aussies: men in shorts, dress shoes and knee socks, women in terry dresses and pale gray Grosby's loafers. They may greet people with age-old terms like "darl," "love," and "pet," though the outside world has moved on to more progressive, gender-neutral greetings like "Hi" or "Hello."
Loading
But you're now committed to this seaside town: you've bought a cafe (presumably selling International Roast instant coffee, pineapple donuts, and ham and cheese muffins) and you don't want to alienate your customers. So either embrace the language of the locals, or print name tags and encourage them to call you by your first name.
If you can't find a printer, use a Dymo labeller.
read more have a good weekend magazine, visit our page sydney morning herald, age and brisbane times.