The triangular property was used as a car yard by Flinkier Motors until 2007, but earlier it was an Ampol petrol station. The Flinkier family bought it in 1996 for $655,000.
At 332 Kings Way, DSA Lawyers bought a 330-square-metre split-level office for $1.55 million at an auction organized by Stonebridge Property Group's Dylan Kilner, Max Warren and Shawn Luo.
It is understood the CBD-based law firm plans to move in when its current lease expires.
They're not the only owner-occupiers snapping up their own properties in South Melbourne's fringe office market. Cybersecurity agency Securiton has paid $1.32 million for an office at 117 Fellars Street.
The office sold for a 21 percent premium over the building's last sale, Kilner said.
Spring Street Dining
Developer Ross Pelligra is capitalizing on people's fresh enthusiasm for fine dining, setting aside 1500 square meters of space at 85 Spring Street for a new restaurant.
The three-storey section of the building faces Little Collins Street and the Windsor Hotel, and features a roof garden.
Colliers' Adam Lester and Tom Larwill are handling expressions of interest in this area.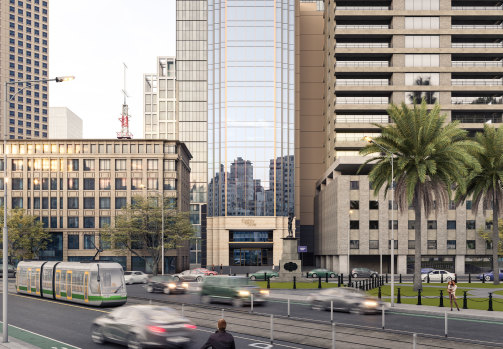 Pelligra is renovating a 16-story office building it bought last year for $130 million. It was once occupied by ANZ's financial arm, Esanda, and sat vacant for many years.
Loading
Grocon paid $45 million in 2013 and is fighting to get approval for a 39-story apartment building. In 2017, Golden Age shelled out $75 million before selling it to Anton Real Estate Partners in 2019 for $112 million.
The 10,700sqm office building is in a prime position above Parliament Railway Station, with the historic Treasury Building and Gardens to the south and the State Parliament to the north. The long-awaited refurbishment will be completed by the end of this year.
Along the street is Cbus Property's new $300 million apartment tower at 17 Spring Street, which is actually complete, while around the corner on Exhibition Street is SP Setia's recently completed twin towers, Sapphire by the Gardens, where Colliers owns a $39 million Dollar penthouse. supply.
So there's no shortage of potential cash-rich diners nearby. Research by Colliers International suggests nine new fine-dining restaurants will open in cities and metro areas in 2023, with four more expected in the coming months.
Roadway Hardware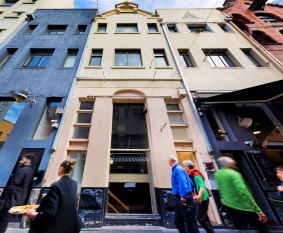 Last week we lamented the lack of recent laneway deals and lo and behold, the four-story warehouse at 55-57 Hardware Lane is for sale.
The 137-year-old warehouse has special significance under the City of Melbourne's planning scheme. It is one of five warehouses on Hardware Lane and Goldie Place built by furniture manufacturer Penman & Dalziel, one of the city's leading artisans and manufacturers.
The 310-square-metre building sits on a 98-square-metre plot and is expected to sell for more than $4 million. It last changed hands in 1991, at the height of the last major recession, for $767,500.
JLL broker Tim Carr, who marketed the building with Nick Peden, Josh Rutman and MingXuan Li, said only four buildings on Hardware Lane have sold in four years.
Properties ranked 27-31 sold for a whopping $7.42 million at a yield of 3.46% early last year. A few years ago, No. 60 sold for $4.8 million—at a construction rate of $23,905 per square meter, a whopping 2.91 percent yield.
On Little Bourke Street, the JLL team also sold 21-27 Somerset Lane for $7 million early last year on behalf of not-for-profit organization The Foundation For Young Australians.
land farewell
Say goodbye to yet another farmland on the edge of a southeastern metropolis. The 83.3-hectare farm in Officer South is earmarked for industrial development and is expected to sell for as much as $100 million.
Peter Sagar, Paul Callanan and Darcy Tobin of LAWD are selling 90 Handford Lane on behalf of a family that has owned the property for 40 years.
Loading
The land, located within the Officer South Employment Precinct Structure Plan, is one of the largest lands to come to the market so far this year. It is expected to be rezoned for industrial use following approval of structural plans.
Demand for large industrial development sites close to transport hubs has surged over the past few years due to pandemic-related shortages.
Late last year, fund manager Neil Werrett paid $130 million for 53.6 hectares at 585 Clyde Berwick-Cranbourne Road; MAB bought 1580 Thompsons Road for more than $60 million; ISPT bought 78.8 hectares at 425 South Crown Road $100 million was spent on the land.
The area is also full of new residential developments from Stockland, Parklea, Brown Property Group, Mirvac, YourLand, Satterley and Frasers Property.
The Business Briefing newsletter features breaking stories, scoops and expert opinion. Sign up to get it every weekday morning.