Profits at ANZ Bank surged 23 per cent to A$3.8 billion in the latest half-year, as the bank benefited from higher interest rates and a strong performance in its institutional banking division.
The Melbourne-based banking giant raised its dividend on Friday as it posted record half-year results, boosted by a surge in net interest income, which rose 20 per cent in the first half.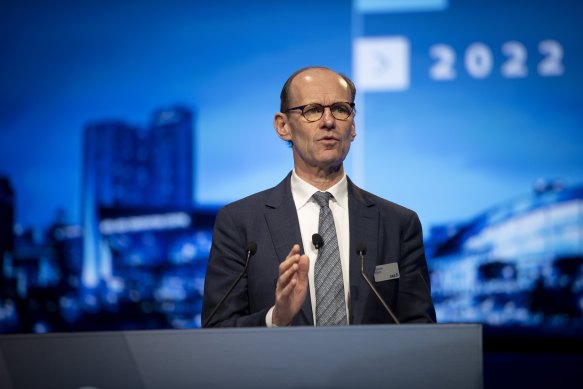 With operating expenses up 4% and bad debt charges kept relatively low, the bank reported a 23% jump in cash profit from continuing operations compared with the second half of March last year and a 12% increase from the second half of September.
"The record performance was driven by solid growth across the board and the benefits of owning a diversified business," said Chief Executive Shayne Elliott. "It was also a direct result of our deliberate strategy to simplify, reshape and de-risk the bank, which Allowing us to replace revenue following the disposal of non-core assets."
ANZ took a credit-impairment charge of A$133 million in the first half, up from A$52 million a year earlier.
Loading
Referring to the economic outlook, Elliott highlighted intense competition in the retail banking sector and the growing challenge for customers of higher costs and rising interest rates.
"The next six months will be more difficult than the last. In Australia and New Zealand, retail banking is as competitive as ever. Further challenges," Elliott said.
The cash earnings results were close to consensus figures cited by Citi analysts. ANZ will pay a fully franked dividend of 81 cents per share, up from 74 cents last year, and will be paid on July 3.