UFO ★★½, SBW Stables Theater, April 20
It's like a well-crafted children's play: It not only incorporates the craziness of modern video, but also soulfully recalls a more benign world filled with dollhouses and their inhabitants.
At the same time, it's also some of the oddly dramatic cousins ​​of B-movies, and Thunderbird1960s British science fiction television show for children, made with puppets and mannequins.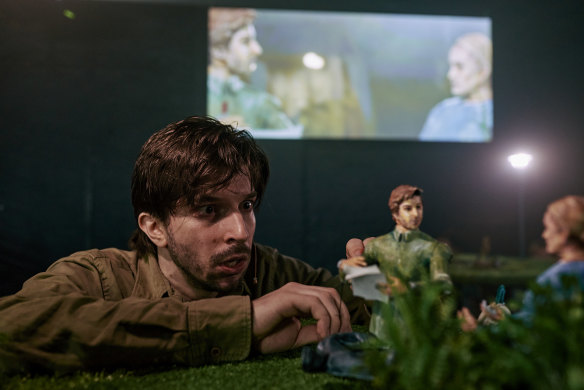 UFO (premiering here) is the brainchild of director/video designer Solomon Thomas (whose re:group collective gave us a clever "live movie" last year called Coil) and writer Kirby Medway, with key contributions from puppeteer Chris Howell. The latter work, perhaps the show's most interesting innovation, uses a process in which he scans actors and then runs miniature portraits of them through a 3D printer.
So four performers, Matt Abertome, James Harding, Angela Johnston and Tali Leeson, voice puppet versions of themselves, standing roughly 25 centimeters tall. They rig these puppets, which have some basic neck and arm movements, and they film them live, so we see the action as a sort of slow-motion animation on the screen. 3D printing encircles the figurine's face with distinct horizontal lines not unlike the cross-hatching of a moody graphic novel, and the action unfolds on a waist-high set designed by Angus Callander, beautifully A golf course is pictured, complete with a mock Tudor clubhouse.
I tell you all of this takes precedence over what the work is "about" because it's very much a drama of process rather than story or characters or doctrinal premises. At first, it's all so new that one is completely drawn to the visual presentation and the eccentric old-world charm that pervades the work, despite the neat technology on display.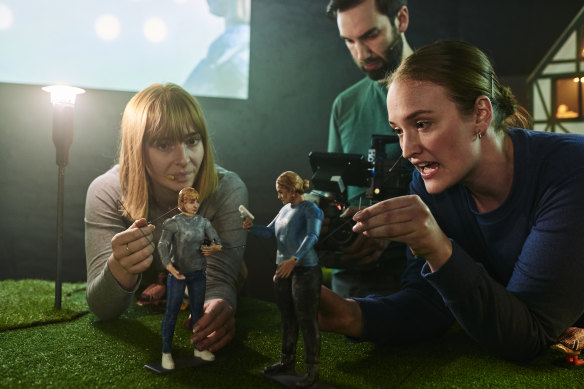 The problem is that for about 15 minutes you've gotten used to all of this, and the remaining 50 minutes make you less focused on the methodology and more inclined to find the story. As it turns out, this was printed in 2D, not 3D.
A UFO, represented by a light panel at the top of the stable's stairwell, has landed on the golf course, and two of the four characters are assigned the task of observing and recording the flickering changes in the lights. Their main concern is that they run out of paper to take notes on. Now, call me old school, but if I saw a flaming UFO on the 18th hole, I don't think the lack of a note would be my main concern.