"Merging such a significant player with Qantas, Australia's largest airline, could significantly reduce competition, which we object to."
While the ACCC considered the level of competition offered by other players, Cass-Gottlieb said neither existing airlines, such as Virgin Australia and National Jet Express, nor new entrants were likely to be fast enough Expansion to this size compensates for the loss of competition resulting from the proposed acquisition.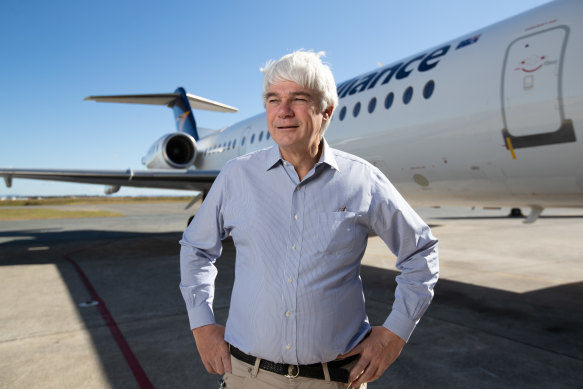 "If Qantas were allowed to acquire Alliance, it would face limited competition because most other airlines lack the right aircraft, fleet size or capabilities to compete effectively," Cass-Gottlieb said.
"Airlines looking to enter or expand at scale face a number of obstacles, including incumbent advantages, the need to build a reputation for reliable service, acquiring and training crew and engineers, acquiring the right aircraft and infrastructure, and the critical importance of flying Regulatory requirements. Combined, these factors make it difficult for smaller airlines to win important customer contracts and grow their business."
In 2019, Qantas announced it had acquired a 19.9 per cent stake in Alliance Aviation – a matter the ACCC decided not to pursue enforcement action. On 5 May 2022, Qantas announced that it had entered into an agreement to acquire the remaining shares in Alliance that it did not already own.
It follows the ACCC's issue statement in August about its concerns about the takeover following submissions from groups including rival airline Regional Express and the transport workers' union.
However, Qantas isn't the only airline that has been looking to expand its charter services. In July, Rex acquired charter operator National Jet Express from Cobham Aviation and was granted an ACCC license 11 days later.
In a statement to the ASX, Qantas said it would seek more information from the ACCC about its decision, insisting the deal would not significantly lessen competition.
"The airline has requested a meeting with the ACCC to understand its decision, which is inconsistent with the increasingly competitive nature of the segment and the view expressed by competitors that acquisitions would not reduce competition," the company said.
Loading
"As the ACCC has previously acknowledged, clients in the resource space are experienced and resourceful, with procurement expertise and strong bargaining power in negotiations with airlines and other operators. The proposed acquisition will enable Qantas to better This important industry is well served, especially with the efficiencies unlocked through a combined fleet of similar aircraft."
Alliance managing director Scott McMillan said he was disappointed by the ACCC's decision and believed there was "strong industrial logic" to the takeover.
"We continue to believe that … the proposal will not significantly reduce competition," McMillan said. "We also believe there is a compelling case that the proposed transaction will result in a better outcome for Alliance shareholders and our clients."