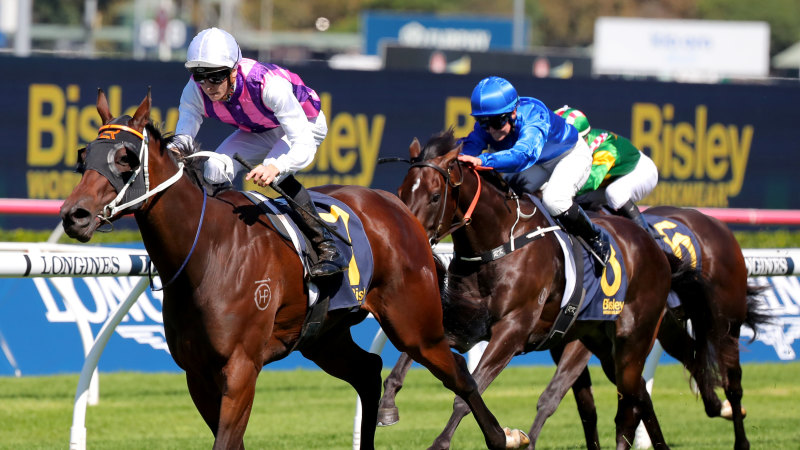 Gibbons made an impact on Lazeta at the South Pacific Classic after a frustrating three-round run of bad luck. He stuck with her in the Hawkesbury Guineas, where she moved up to Group 3 level.
"She's done well since the tournament. It's a good fit for her," Lees said. "She's already a double benefit winner, so we're just trying to put her in the right place, the next step is Group 3.
"I think she has a lot of upside over the next 12 months, and she looks like she's going to stretch the mile.
"People think she's a wetland tracker, but she's capable in every way and should have a chance to prove that with a fantastic draw in Guinea."
Gibbons would dance Never Talk, which would appreciate the softer Hawkesbury track. She hasn't won in a year but finished second to Zapeteo in the Sapphire Championship at Randwick a few weeks ago.
Lees hoped to make Never Talk ride closer as he ascended the 1300m of Hawkesbury Crown, but a 13-draw ended that.
Loading
"She certainly prefers wet ground, but she's also able to walk on harder ground. A wet track might just keep a few other guys out of the race," Lees said.
"I would have liked to have drawn a little softer with her. That would have kept us in one spot because she's used to making herself do too much during games."
That's not a problem for Hawkesbury Cup's Hosier. He looks like a leader in the 1600m and likes to keep his toes on the ground.
"He picked up the pace and kept grinding. He just had a great racing style," Lees said. "It's his sweet spot and he'll probably find the right track.
"I think he can run up to 2000m, but he doesn't usually come under a mile either. He's an expert type of horse.
"We're just going to let him play to his strengths and let other guys beat us."
Sports news, results and expert commentary. Subscribe to our sports newsletter.