The cost to keep the tokens ranges from $8 per month ($11.87) for individual web users to $1000 per month for verified organizations, plus $50 per month for each affiliate or staff account.
Loading
Celebrity users, ranging from basketball star LeBron James to writers Stephen King and Star Trek's William Shatner, were hesitant to join — though on Thursday, all three had blue checks showing that the account paid a verification fee. It's unclear if that's the case, or if Twitter is making an exception for them.
Kim, one of them, said he hadn't paid.
"My Twitter account says I'm subscribed to Twitter Blue. I don't. My Twitter account says I've provided a phone number. I don't," Kim tweeted Thursday. "Just to let you know."
Earlier this week, singer Dionne Warwick tweeted that the site's verification system was "a mess."
Loading
"The way Twitter has evolved, anyone could be me now," Warwick said. She had earlier vowed not to pay for Twitter Blue, saying the monthly fee "may (and will) go towards my extra hot latte."
On Thursday, Warwick lost her blue check (actually a white check on a blue background).
For users who still had their blue check on Thursday, a pop-up message stated that the account "has been verified because they subscribed to Twitter Blue and verified their phone number." Verifying a phone number simply means that the person has a phone number, and they Verified that they had access to the phone number — which doesn't confirm the person's identity.
Less than 5% of verified legacy accounts had paid to join Twitter Blue as of Thursday, according to an analysis by Travis Brown, a Berlin-based developer of social media tracking software.
Musk asserted that the blue verification badge has become an inappropriate or "corrupt" status symbol for elites and journalists.
Musk's move angered some high-profile users and pleased some right-wingers and Musk fans who thought the tags were unfair. But it's not an obvious moneymaker for a social media platform that has long relied on advertising for most of its revenue.
After buying Twitter for $44 billion in October, Musk has been trying to boost revenue for the struggling platform by pushing more people to pay for premium subscriptions. But his actions also reflect his assertion that the blue verification badge has become an inappropriate or "corrupt" status symbol for elites, journalists and others who were verified for free by Twitter's former leadership.
About 14 years ago, Twitter started marking profiles with a blue checkmark. One of the main reasons, besides protecting celebrities from impostors, is to provide additional tools to curb misinformation from imposter accounts.
Most of the "traditional blue checks," including politicians, activists and people who suddenly find themselves in the news, as well as lesser-known journalists in small global publications, are not household names.
One of Musk's first product moves after taking over Twitter was a service that would hand out blue checks to anyone willing to pay $8 a month.
But it was quickly inundated with imposter accounts, including those impersonating Nintendo, Eli Lilly and Musk's businesses Tesla and SpaceX, so Twitter had to temporarily suspend its service a few days after the launch.
The rebooted service costs $8 a month for web users and $11 a month for iPhone or Android app users. Subscribers should see fewer ads, be able to post longer videos, and have their tweets stand out more.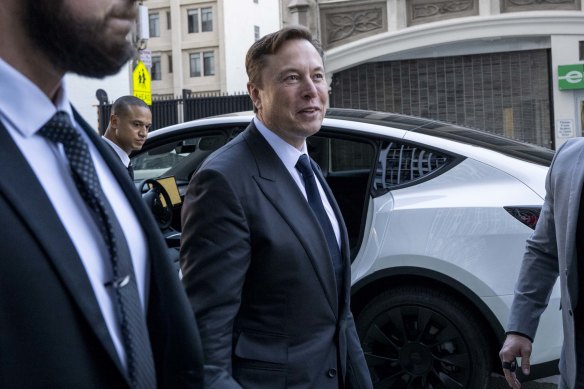 In other Musk-related news, His company SpaceX The huge new rocket crashed into the Gulf of Mexico minutes after it exploded on its first test flight.
SpaceX's goal is to orbit the Earth with the largest and most powerful rocket ever built.
Associated Press
Get a note directly from our foreigner correspondent About headlines around the world. Sign up for the weekly 'What's In The World' newsletter here.