White House press secretary Karin Jean-Pierre called on the two sides to stick to the truce, "abandon violence and return to negotiations." She said the military and Rapid Support Forces "have a responsibility to ensure the protection of civilians and non-combatants."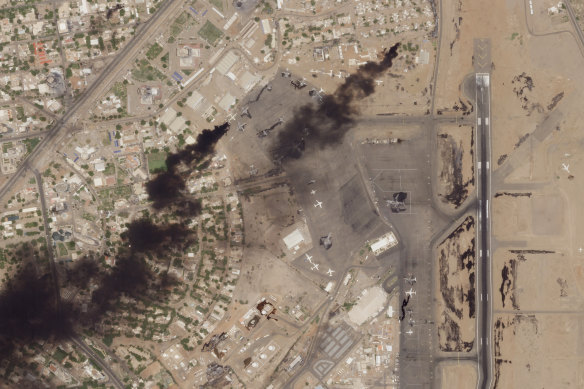 Until now, Army chief General Abdul Fattah Burhan and Armed Forces Without Borders commander General Mohammad Hamdan Dagalo — former allies against the Sudanese Democratic Movement — seemed determined to fight in power. crush each other in the struggle.
Tuesday's ceasefire attempt failed even after U.S. Secretary of State Anthony Blinken spoke to each general by phone and under pressure from their regional allies. Egypt, which backs Sudan's military, and Saudi Arabia and the United Arab Emirates, which are close to the Rapid Support Forces, have been calling for the parties to step down.
All day Wednesday, the two sides fought over the main military headquarters in central Khartoum and the nearby airfield, which the RSF has repeatedly tried to seize. Residents say the military is hitting RSF positions with airstrikes.
The Army's monopoly on air power appears to have given it an edge in the fighting in Khartoum and Omdurman, enabling it to capture several RSF bases in the past few days. But tens of thousands of paramilitary fighters have dispersed across the city.
Loading
Residents said armed men, mostly in RSF uniforms, attacked homes, offices and shops in various neighborhoods of Khartoum.
"They were wandering from house to house in groups, going from shop to shop, looting everything," said a resident of the upmarket Kafuli neighborhood in northern Khartoum. "They storm into your house and take everything of value at gunpoint."
Many families took up arms to defend their property, the resident said. He said he and his brother guarded their home at night. "You have no other choice.
In Brussels, European Commission spokeswoman Dana Spinant confirmed reports that a senior EU official had been shot and wounded in Sudan, but gave no details.this New York Times The official was identified as Belgian national Wim Fransen. Separately, gunmen broke into the EU ambassador's residence and attacked him this week, but a spokeswoman said he had returned to work.
At least 296 people have been killed and more than 3,000 wounded since the fighting began, the United Nations' World Health Organization said on Wednesday, without providing details on civilian and combatant deaths.
Associated Press
Get a note directly from our foreigner correspondent About headlines around the world. Sign up for the weekly 'What's In The World' newsletter here.