A-League referee Alex King warned Melbourne City goalkeeper Tommy Glover to "get us out of here" shortly before they were surrounded by pitch invaders and the player was hit in the head with a bucket.
King, he told league officials on Sunday morning, he did not shocking scene In the Melbourne First Division men's derby at AAMI Park, he will be free to officiate over Christmas if he feels capable.
The Queensland-born whistleblower was rushed off the pitch after trying to shield Glover from rioting fans, who stormed the pitch as Glover threw flares into the stands and an area occupied by victory fans.
The flare was initially thrown at the city gloved hand by a crowd member at the victory end of the ground.
Glover was taken off the field with blood streaming down his face after being hit by the bucket.which Caused "serious lacerations"Jin was covered in buckets of sand, but almost missed the full force of the flying object.
Professional Football Referees Association of Australia president Paul Setrangolo revealed King had wanted Glover to charge into the AAMI Park tunnel seconds earlier and try to protect the Manchester City player from the influx of fans.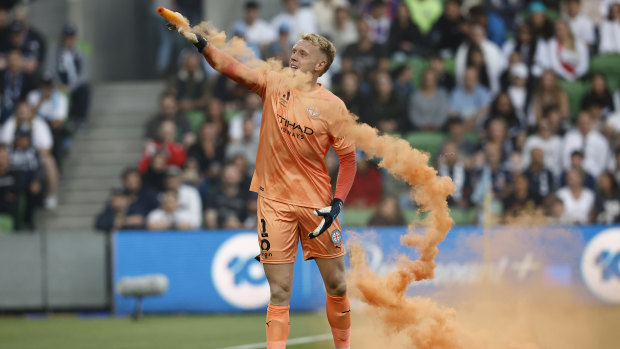 "When he saw what was happening, he actually told the goalkeeper, 'Let's get out of here,'" Cetrangolo told Herald with age"Just as they were about to go, they were surrounded.
"He obviously saw what was happening. It was a communication with the goalkeeper, not just standing there, but getting out of there. And then obviously it was too late and everything went haywire.