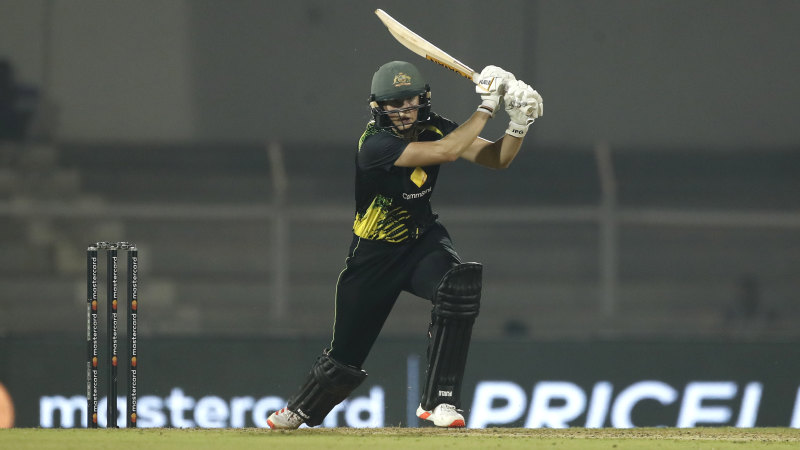 Australia got off to an aggressive start, with Healy scoring a contrasting foursome in the opening two overs, a slash through the gully, a cover drive, a leg sweep and 'keeper' legs eavesdropping between.
After that daring start, the pace slowed if Beth Mooney's kickoff error was dismissed as an eight-ball two-pointer before Healy retired with injury, followed by Towers. Tahlia McGrath, 9 for 10.
That leaves Australia 2-46 off 41 balls and needing to strengthen. Entering Perry, he jumped off the field and sent Radha Yadav off six first pitches.
Gardner was the perfect pairing and the two backed nine before Gardner was long seeking her fourth six.
That didn't make life any easier for India, however, as Harris struck 13 off her first four balls.
Bowling Deepti Sharma had five balls remaining and should have used up Perry. Instead, she allowed the extra run, allowing Perry to strike again. The next two balls hit a six.
"It's been great to be able to play like I've been playing the past few games, but it's even better to be with this team," Perry said.
"I really enjoyed the opportunity to play with this team. Grace was absolutely great tonight and so was Ash."
India were successful from the start, with Smriti Mandhana hitting the opening first, third and fifth balls, with Darcy Brown bowling four.
But Mandana was overtaken by Gardner's backup goalkeeper Mooney in the third quarter. After two overs, Shafali Verma followed with 20 for 16 balls, just as she was getting into top form.
Loading
That stopped Harmanpreet Kaur, who was always likely to be India's key hitter. Before she could relax, however, the hit climbed above 12, with Megan Shutter and Heather Graham hitting five fours off seven balls. But Alana King made a high-side sweep on Brown and the captain struck out 46 for 30 balls.
That seemed to be it, but Richa Ghosh continued the chase despite Devika Vaidya soon following up with 32 for 26 balls.
With 12 balls remaining, India needed 38 balls. Ghosh hit 6, 6, 4 before Graham closed the game with two singles.
There were 20 points remaining in the final but Shutt kept them at 12 and Ghosh finished with 40 off 19 balls.