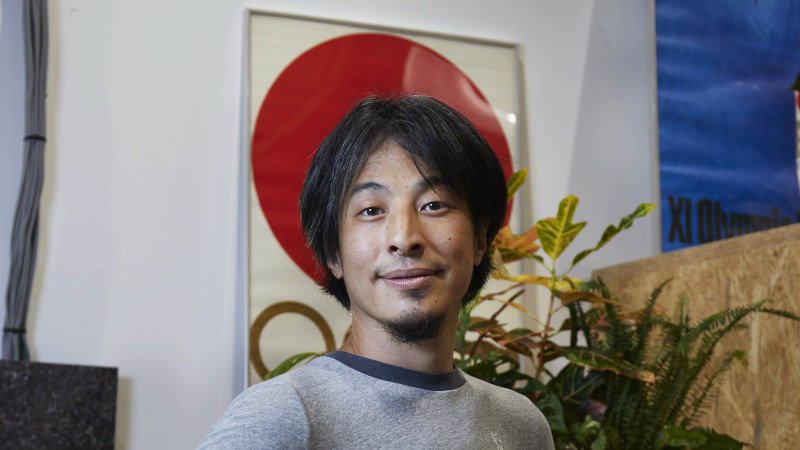 "I think about my current options and my future without thinking about morality, and then act," he said in a 2007 interview spa, a Japanese magazine. "Normal people are moral, so they might say it's weird to think like me."
Loading
That outlook seems to have guided Nishimura's operation of 4chan and its Japanese predecessor, 2chan. As described in court records, interviews and in dozens of his books and other writings, Nishimura, 46, followed the 2chan playbook that appears to have become the template for his successors: control the site with as little control as possible and resist any calls for changes .
He often operates on the fringes of the rules, refusing to back down even as pressure mounts from Japanese society and the courts, arguing he has done nothing illegal.
Over the years, Nishimura — who likes to paint himself as a slacker despite his prodigious output — has repeatedly said that managing 2chan is "boring" or "too much hassle" when interviewers ask him about his responsibility for the site. . He added that if people had questions about its content, they should ask parliament to change the law.
When pressed about it in 2001, he responded that he had "no responsibility" for the site's content, adding that its most active users should make their own rules.
"I offer a space, but I tell people, 'You all get to decide what to do in there.'"
When Nishimura bought 4chan in 2015, he did something he has rarely done since: He answered questions about his vision for the site.
It's already one of the most notorious corners of the internet. But if he can make one change, he tells users, more interesting things will happen, "even bad things."
His wish came true. Since Nishimura's takeover, 4chan users have launched the QAnon movement, spreading conspiracy theories about a COVID-19 vaccine and the 2020 election, and helping to radicalize mass shooters. A congressional committee investigating the Jan. 6 riots at the Capitol asked Nishimura to hand over personal information related to the attack. The man accused of attacking the husband of House Speaker Nancy Pelosi in October wrote that he appeared regularly on the site.
Nishimura, who declined to be interviewed for this article, said his site simply fills a need for an outlet where people can exercise their free speech. He insisted that he has complied with the law and responded to authorities' requests for information about alleged crimes related to the posts.
Nishimura started on 2chan, a sprawling, messy and — most importantly — anonymous message board he started on Skylark in 1999 as a student at the University of Central Arkansas.
By May 2000, it had gained notoriety when a user posted a cryptic message about a city bus in southern Japan and then hijacked it, stabbing three people and killing one.
This incident shocked Japan. New users flooded the site, and Nishimura was soon in the news, unceremoniously explaining his hobbies to a nation just adapting to the internet.
"We don't live in utopia," he told a Japanese magazine in 2002 flash. "Something must happen."
Made it quickly. The site has grown into a wellspring of freewheeling, eccentric internet culture, becoming one of the few places in conservative Japan where people can express their opinions openly.
In 2004, 2chan went mainstream with the release of "Train Man," a series of posts on the forum that purportedly showed how users helped a hapless nerd woo the woman of his dreams. The story became a bestseller, blockbuster movie and hit TV show. It makes 2chan the most visited website in Japan.
While most users discuss hobbies or complain about work, others threaten murder, post bomb threats and spawn reckless conspiracy theories. A flood of posts from far-right users has denied Japan's war crimes and fueled anti-Korean hatred across the country.
As Nishimura reaped handsome profits from the site—as much as $100,000 a month—he also became adept at avoiding costs. By his own account, he has been sued more than 100 times for his 2chan posts. He refused to pay the court judgment of at least $1 million, stating that there would be no criminal penalty for doing so.
"If I get executed for not paying, I will. But if I don't pay, nothing will happen to me, so I won't," he told reporters after a court hearing in 2007.
For Nishimura, dodging lawsuits — like everything else related to 2chan — "is just a game," said Eichiro Fukami, who has worked closely with Nishimura on 2chan-related projects for years. After Nishimura accused him of embezzling public funds, Fukami successfully sued Nishimura for defamation.
Nishimura spent countless hours trying to find ways to circumvent the law, he said. 2chan uses servers located in the United States, which are not governed by Japanese law. Nishimura considered declaring the site a religious organization for tax exemption, Fukami said.
"He's always playing around the edges," he added.
As the cost of 2chan's reputation mounts, Nishimura tries to distance himself. At the beginning of 2009, he suddenly announced that he would sell the website and cut off the relationship. He wrote a book called "Why I Dumped 2chan".
The story didn't last long. Court proceedings involving Nishimura revealed that police believed his sale of 2chan was a ruse to hide his ownership. In an unrelated legal action that followed, his lawyers confirmed that Nishimura continued to operate the site in secret.
In 2013, Nishimura lost control of 2chan in a dispute with Jim Watkins, an old friend who later became the owner of 8chan, a more unregulated version of 4chan. Version. In one blow, Nishimura lost an important source of income and influence.
About two years later, Nishimura bought 4chan from an American named Christopher Poole. The site was home to early internet memes like Rickroll and LOLcats. But it also had a darker side, giving birth to Gamergate — a harassment campaign that inundated women in the video game industry with threats of death and rape — and a misogynist culture of incest.
By 2014, Poole was exhausted and desperate to find a replacement. Nishimura was interested.
In his best-selling anti-productivity manifesto, "One Percent Effort," Nishimura wrote that he decided to buy 4chan because he wanted to move out of the aging, shrinking Japanese market. Anonymous message boards are notoriously "problematic" places to go, meaning most companies are afraid to touch them, he said.
While there is a great demand for websites, there is very little competition. "The site will make money even if I do nothing," he wrote.
Today, the operation of the site is almost completely opaque. Unlike Poole, West Village rarely answered questions about 4chan. Its ownership is hidden behind a corporate veil and it is run by anonymous moderators who are required to remain silent through non-disclosure agreements. (Nishimura, according to New York Times and people familiar with the situation, purchased 4chan for an undisclosed sum from three Japanese partners. )
"Since I ran 4chan, we have never been taken to court," he wrote recently on Twitter, not pointing out that, unlike Japan, U.S. law protects online platforms from liability for users' posts.
"Logically," he added, "it means 4chan has been meeting its obligations without any issues."
This article originally appeared on New York Times.