American rapper Azealia Banks made her music the talking point at a rescheduled Melbourne show on Sunday night after announcing last week that the Australian tour would be her last.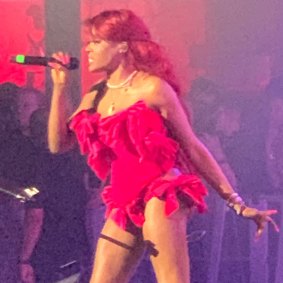 The 31-year-old singer was flattered by 1300 fans at Port Melbourne venue The Timber Yard eight days after her scheduled Melbourne concert on December 10 was canceled hours before opening due to visa delays. Tour organizer Point Productions.
Shortly after, Banksy posted on Instagram that there would be No rescheduled Melbourne showsbut a new show is announced on thursday.
After on-stage delays and drama, Sunday night's Melbourne show was Banks' commanding, confident performance featuring hits 212 and a string of crowd favorites.
Her scheduled 9.30pm start time came and went, while two DJs jazzed up the crowd with dance beats. Amid heavy security and applause, Banks finally strode onto the stage at 10:24 p.m., barely speaking between songs. While a DJ on stage behind her churned, Banks worked the crowd, strutting and smiling for hundreds of photos taken with her phone.
Banksy was dressed in pink and wore a large pink ribbon in her hair, which she later threw into a crowd of mostly teens and early 20s with decent manners.
In her set, purple lighting enveloped the stage and audience, opening with a vibrant 2012 song water baby and complete in 37 minutes big beat.
The controversy surrounding Banksy last week, when she reveled in the spotlight when she posted on Instagram that "this place pains me so much" seems to have passed.