A child has been taken to a hospital in Brisbane after consuming a product containing potentially hallucinogenic spinach and is one of 11 people in Queensland who have reported becoming ill after consuming products containing spinach.
The child, who was admitted to hospital on Saturday night and has since been released, is believed to be one of more than 100 people hospitalized after eating spinach following a widespread recall of the weed-tainted product.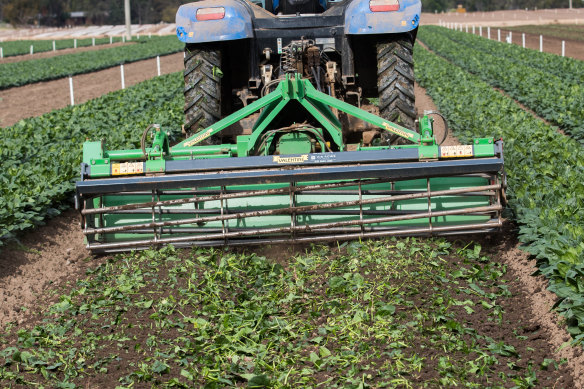 Since Saturday, 88 people in NSW have reported developing symptoms after eating baby spinach and at least 33 of them have sought medical attention, NSW Health said.
authorities said The contamination likely came from a Victorian farm and efforts are underway to identify affected products that may be causing symptoms including confusion and hallucinations.
Food Standards Australia New Zealand is urging people to throw out the recalled products from Woolworths, Coles, Aldi and Costco.
The products recalled in NSW include:
Coles spinach 60g and 120g, expires 23 December
Coles Chef Blend Tender Leaf 150g has a best before 22 December
Coles Baby Leaf Blend 300g, expires 22 December
Coles Kitchen Green Goddess Salad 250g, 300g
Coles Kitchen Chicken BLT Salad Bowl 240g
Coles Kitchen Roasted Pumpkin, Feta & Walnut Salad 265g
Coles Kitchen Smoked Mexican Salad 280g
Coles Kitchen Egg and Spinach Pan 100g
Woolworths 270g Chicken Cobb Salad has a best before date of December 20
Woolworths Chickpea Falafel Salad 290g, best before 20-22 December.
Some people who consumed the contaminated product reported symptoms including confusion or confusion, hallucinations, dilated pupils, rapid heartbeat, flushing, blurred vision, and dry mouth and skin.
"The recall is due to potential contamination by unsafe plant material," reads the warning on the FSANZ website.