It's been three years since Rufus Du Sol, one of Australia's biggest ever exporters of electronic music, arrived in Perth, with frontman Tyrone Lindqvist declaring "too long" on Saturday night.
Apparently the absence brightened hearts as Lindqvist and the rest of the Sydney-raised, Los Angeles-based trio – Jon George and James Hunt – managed to draw their biggest crowd to Perth's concert tour.
Some 20,000 people packed the sold-out, skinny Langley Park venue to watch their special brand of upbeat, atmospheric dance music blare track after track in their final show in their world surrender travel.
After a bass boost accompanied by some eye-catching lights, Rufus Dusol immediately sets the euphoric tone for the rest of the show with a quick cut of the catchy chorus Realize it From the 2021 album surrender before getting emotional Eye Great albums from 2018 comfort.
Then the trio went back to 2016 bloom with one of their most famous tracks You are rightwhich became No. 12 on the Hot 100 list in 2015.
Then came two more surrender progressive house style pious followed by darker on my knee.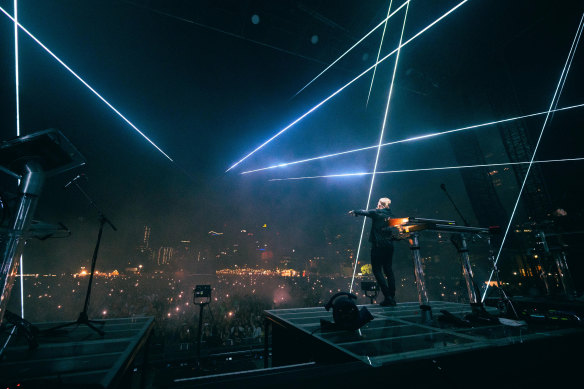 Rufus Du Sol was formed in 2010 and Lindqvist said their first show in Perth was at the Amplifier bar in the Perth CBD to a small crowd.
Since then, they have performed at a sold-out show at the Fremantle Arts Center in 2019 and headlined Origin Fields before COVID-19 hit on New Year's Day 2020.