A Tennessee man facing charges for assaulting police officers during the Jan. 6, 2021 attack on the U.S. Capitol has been charged with conspiring to kill a law enforcement officer investigating his case, the U.S. Justice Department said.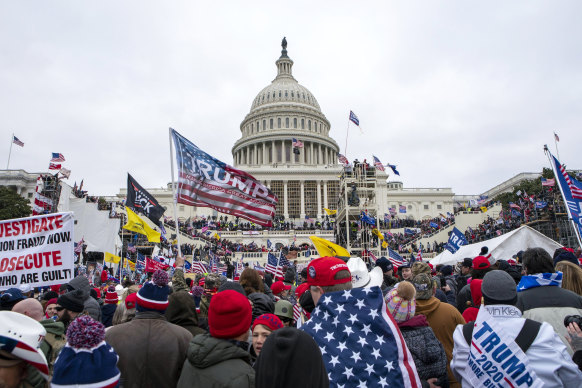 Edward Kelly, 33, of Maryville, Tenn., and alleged accomplice Austin Carter, 26, of Knoxville, Tenn., have been charged with conspiracy, retaliation against federal officials, spreading threats across state lines and abetting the commission of a violent crime, according to a report Friday in Tennessee, U.S. Criminal proceedings in Kaifeng, Eastern District Court of the State. The men were held without bail following a hearing Friday in federal court in Knoxville.
Kelly was arrested in May on suspicion of beating a police officer during the Capitol riot. Kelly had a list of personal information, such as the names and phone numbers of 37 law enforcement officers who investigated his role in the attack, according to the complaint.
The complaint alleges that Kelly recruited Carter and another individual at his workplace to help him with the new plot. The associate, who asked not to be named, decided to cooperate with law enforcement and secretly recorded discussions about Kelly's plans to kill the officers and attack the FBI's Knoxville office.
Authorities said the associate received an envelope with the list and surveillance camera video from Kelly's home showing at least one officer approaching Kelly's home earlier this year to search it.
Authorities said the three met at Jarvis Park in Maryville on Dec. 3 to discuss what Kelly called an "assassination mission," according to the indictment. Kelly urged witnesses to "reach out to your police partners and see what information you can gather about individuals on the list."
Loading
Efforts to contact Kelly's family were unsuccessful, and the attorney representing Kelly in the Jan. 6 case, Marina Medvin of Alexandria, Va., recently dropped out of his case. He is seeking a court-appointed attorney.
On Dec. 13, when the witness and Carter finished their shifts, Carter handed the list to the witness, told him to memorize it, and "burned everything in the envelope," the complaint said. The witness then handed over the envelope to authorities and agreed to "secretly tape" Kelly and Carter for the FBI, the complaint says.