Jeremy Rockliff's Tasmanian government agreed to the terms and committed $375 million to build a new stadium at Macquarie Point in Hobart, but they have yet to secure a funding commitment from the federal Labor government, which has previously said they would wait. Hear the business case for a new stadium.
Their counterparts in Tasmania and the Greens opposed the decision to invest in Hobart's new stadium And expressed views similar to those of Sports Minister Wells.
The AFL has committed $15 million to the stadium, while a proposal submitted by Tasmania is expected to seek $250 million from the federal government, Tasmanian independent federal MP Andrew Wilkie said this month. Earlier, he made it clear that he opposed any investment in the infrastructure of the stadium by the federal department.
Tasmania has also committed to funding a new team in an agreement with the AFL, providing $12 million a year over the next 12 years and $60 million to a high performance centre.
The AFL remains confident they can strike a deal that clears the way for a Tasmanian team to join the AFL, but concedes that funding issues may take time to resolve, and Magpies president Jeff Browne has said There is no need to make hasty decisions.
'Team forward': Lyon identify key areas of improvement
Jon Pierrick
Ross Lyon is looking to emulate a key point of his blueprint, which saw St Kilda reach the finals in consecutive years in his first term, as the Saints prepare for favorable competition.
Lyon have made it clear that he wants the Saints to become more of a scoring threat after turnovers, an area they ranked mid-table under former coach Bret Tratten.
"We want to increase our turnover usage because you can't survive suspensions," Lyons said on SEN.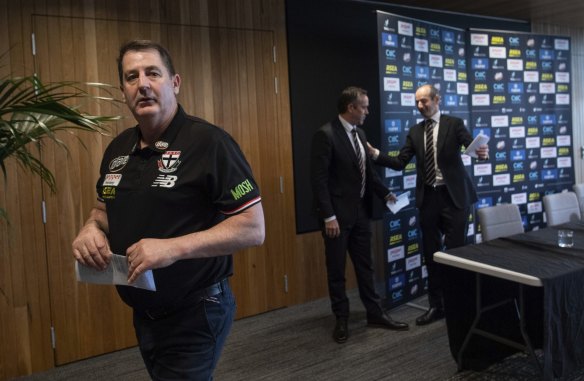 "I've coached teams (relying on suspensions) that were easily dismissed in big games. We like to be a team that goes forward, uses our runs, and is a team that presses."
The Lyon coach has been at his best when his side are in the top five in turnovers, although arguably his best and most talented team – the Saints in 2009 – was at his best Scoring in stoppage time is also elite. Champion Data stats show they ranked second in turnovers and stops in the year they lost to Geelong in the Finals.
In 2010, when they drew with the Magpies in the Finals but lost a replay, they ranked third in turnovers but eighth in stoppage time.
In 2013, when he led Freemantle to their first and only Grand Final, Dockers were fourth for turnovers and fifth for stoppages. However, there was an anomaly in 2015 when the Dockers topped the standings but were 12th in turnovers scored and third in stoppages scored. They ended up losing to the Hawks in the preliminaries final.
The Saints rank 10th in turnovers scored this season (59.4 percent of their total), just above league average (57.7 percent). Across the league, 38.4 percent of points came from stops and 3.8 percent from kickoffs.
In three interviews since he took the job, Lyons said the Saints have strong baserunners — such as captain Jack Steele, Brad Hill and Jack Sinclair — who can make quick plays inside the 50. press and pass, Where Max King – The Right Time – Tim Membrey is waiting.
Loading
"I think the trend now is to move forward faster. The undisputed control game is disappearing," Lyons said.
"Sometimes you need it – whether it's because of injuries or game time, or you're under pressure – but fundamentally, that shape and control and that undisputed marker game is (disappearing). Geelong is the trend A leader who found the balance in the game."
In season of their 150th birthday, the Saints have a relatively favorable draw, with six of the first eight games played at Marvel Stadium. That starts with a first-round clash with the Dockers and a week later with the Western Bulldogs, which could affect the feel of their 150th game against Essendon at the MCG in the third round.
Overall they only played against last season's top six teams (Brisbane) twice but their home games will be tough as they face Carlton, Richmond, Geelong at Gabba and the Lions.
Sports news, results and expert commentary. Subscribe to our sports newsletter.