it's a long road From the English countryside to the Byron Bay hinterland, however, of all the places interior designer Louella Boîtel-Gill has lived in Australia (including years in Melbourne and Sydney), this is where she feels most at home.
"There's something about this land that makes me feel like I'm home," she said. "I grew up in rural Hampshire, England, driving along some roads inland with trees towering overhead, stunning green canopy, same feel as the English country lanes.
"I love driving around the area. It's really therapeutic. It feels like I've just landed somewhere in heaven."
Boîtel-Gill has a penchant for classic cars, including the 1985 Citroën 2CV and the 1976 Land Rover Series 3, affectionately known as "The Frog." She is often seen driving through Bangalow to pick up daughters Chilli, 15, and Indigo, 14, from school, to visit a local tile dealer in the Federal, or to walk her beloved Irish wolfhound, Kyle, on Belongil Beach Pie mix Lewis. Her car is instantly recognizable. Just like her home.
During our visit, a Sydney friend from France walked in through the front door. "Oh, I thought this must be your place," she said in a lilting accent. "It's just your vibe."
Her blue Dutch barn doors and rusty peace signs are clues. This fleeting moment reflects not just her hospitality, but what it's like to live in Bangalow, a friendly country town where neighbors show up unexpectedly and impromptu dinners are the order of the day part.
"I've met a lot of really talented people here — people with their feet on the ground," she said. "In terms of the people around me, I feel like I've come home, too."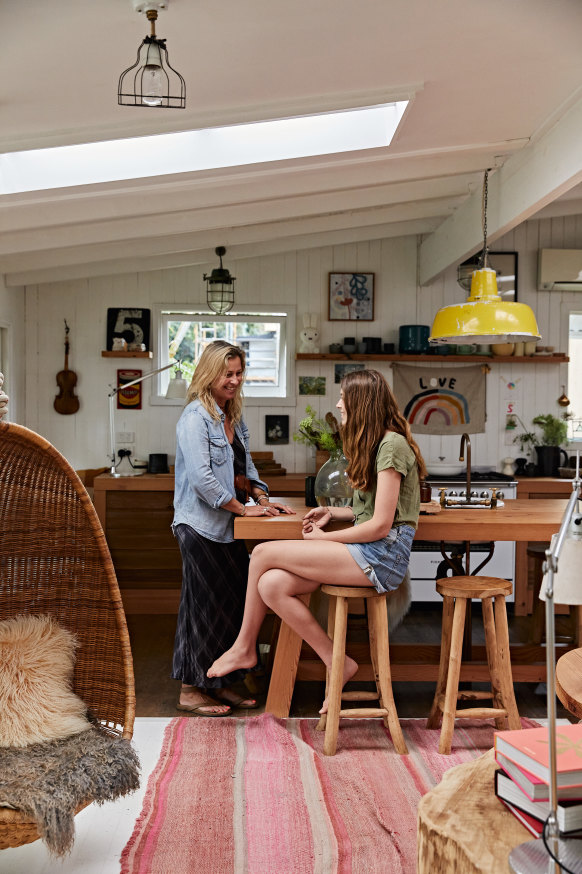 One of her closest friends is Kimberley Amos of boutique hotel The Atlantic. When Boîtel-Gill first bought her house, she was living in Sydney, flying to Bangalow every other weekend, a 100-year-old log cabin.
When she landed, Amos would often send a message showing a picture of a pizza and a bottle of red wine. "We have this Friday night ritual — we'll eat pizza, drink wine and paint the house," Boîtel-Gill said.
She bought the cottage in 2018 after a week in Byron. She had been wanting to buy a place in Sydney at the time, but on her last day in the area, she couldn't resist an "open for inspection" sign on a cabin. As soon as she reached the front steps, the charm of the house – and its owner – won her over.
Jan has owned this place for 15 years and is sad to let it go and wants to find someone who loves it as much as she does. It turns out that one of her friends is an old friend of Jan's who lived in the family's gypsy caravan when it was on Jan's previous property.
That connection, and assurances that she would protect the house rather than tear it down, helped seal the deal. Boîtel-Gill was quickly commuting back and forth between Byron and Sydney, renting out the cottage during the weeks she was out of town.
Two years later, a phone call forced her to reach out. Both of her daughters received places at a local Steiner school, and the waiting list was long; the problem was that she only had three days to decide whether to enroll them and move to the area permanently.
Loading
At the time, her ex-husband, Mark Tuckey of the eponymous furniture brand, had just finished his lease on a store in Avalon. "All the stars aligned," she said. "It took a little convincing to get him to buy into the idea."
Tuckey also moved north, buying a property just a 10-minute drive away so their daughter could spend a few weeks with both parents. In many ways, this has been a great move for Boîtel-Gill. "Work has gone completely crazy," she said. "I find it very interesting that while Byron is known for its neutral palette, people have such a huge response to the way I use color in my interior design work. Every project I do, people enjoy playing with color .
"Here you have inherently interesting old hippie houses and quirky houses that people put together, which maybe makes it feel like you can be more interesting."
When it came to remodeling her own home, Boîtel-Gill agreed with the house's style while adding her colorful signature.
Functional changes were made, such as straightening and widening the front steps, and opening the kitchen. The solarium was converted into a bathroom and two dark blue ensuites. She painted the gypsy caravan green to blend in with the bush backdrop and expanded it to add a double bed.
This home allowed Boîtel-Gill to rediscover her passion for combining old items with new cabinets. "The combination has strengthened," she said.
For years, when she designed furniture for Mark Tuckey, her spaces were kept simple. But she's essentially a nester. "Home is everything," she said. "It tells the story of my life. It's full of memories, and that's why all the interesting things about me matter to me because they piece together my story."
Get the most out of your health, relationships, fitness and nutrition with our services live well newsletter. put it in your inbox every monday.