Dr Joanna McMillan has been assessing the eating patterns of other Australians throughout the year, by sunday lifeof day on my plateBut what will a nutritionist's own day on the plate look like when we get to the time of year when every catch-up is an "occasion"?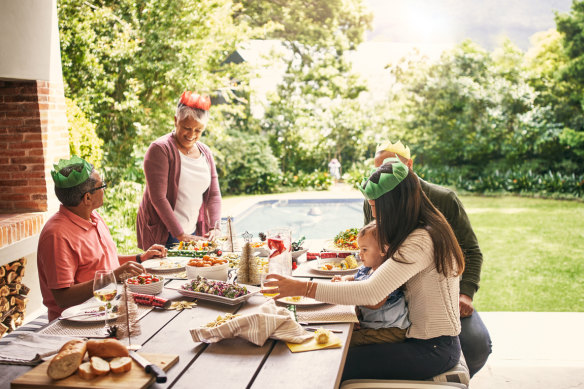 She has her flaws: "I often overeat because I love to eat, and I can certainly drink too much." Instead of emphasizing moments of overindulgence, her philosophy focuses on how she behaves in normal times. "It's about consistency," McMillan said. "So even if you step away from it a little bit because you're on vacation or socializing, you're going back to the default position."
For her, that means exercising every day, staying hydrated, dry days and making sure she eats well most of the time: "I'm not thinking about low carb or low fat or anything," she says. "I only eat quality food."
McMillan also focuses on sleep. "If I'm tired, my brain doesn't work properly, and I also overeat because I want to get energy. So I've taken daytime naps if I need them."
All of this keeps her sane during the festive season and lets her hair down a bit on other celebratory days.
Loading
On Christmas Day, the Macmillan family tradition is to have a glass of champagne and smoked salmon with brown bread when the presents are opened later in the morning. Then they eat guacamole dip and crackers, followed by a late lunch of ham, salmon and "a bunch of salads." There's always room for at least a little dessert, like a lavish ice cream cake, she added.
Christmas is something to be enjoyed, she said: "Have a good relationship with food, have a good relationship with your body, have a healthy attitude, just don't be too strict."
Dietitians Anna Debenham and Alex Parker, founders of The Biting Truth Nutrition Consulting, agree. "Avoidance isn't the solution because that's not very fun and it's restrictive," Debenham said. Instead, she and Parker recommend thinking about what you really like, rather than eating everything because it's there.