Iyear 2013, Duckie Thot, 17, the Melbourne-born daughter of South Sudanese refugees, came third Australia's Next Top Model. She was supposed to start a brilliant career, but she struggled to find a job.
In 2017, a trip to New York changed everything, Kanye West — and then
An aspiring designer who has yet to announce a run for the US presidency or voice his anti-Semitic views is the first to book her for his fashion line, Yeezy. This led to her becoming the face of Rihanna's Fenty Beauty.Back in Australia to walk the runway of The Iconic, the 27-year-old caught up with sunday life chat.
Shooting fashion with your sister Nikki in Melbourne planted the seeds for your career, but when did it start to take shape? I love working with Nikki, sitting backstage and giving my all. She was five years older than me and I was 13 when I started supporting her.I fell in love with models naturally, I auditioned Australia's Next Top Model at 16, then again at 17 [she came third in the eighth season]. My career took off from there.
Loading
You come from a very close family. So, is resilience part of your DNA? I come from a big family. I was the second youngest child and my mother conceived me in 1995 when she fled the war in South Sudan. Growing up in Melbourne, I saw families transition to a new way of life, adapting to a new country, and it was a simple situation. There is resilience in seeing what our family has been through, understanding our family history and how it connects us.
Have you often wondered how things would have turned out if they hadn't immigrated to Australia? I know our results may vary for all of us. They left a bad war, but the opportunity to come to Australia meant they could embrace the culture and start a new life. Knowing my roots was important to my parents – I didn't speak English until I went to school – but they also thought you needed to work hard to get out of it. They remind me that my identity is part of who I am, but there is another part, Australian identity. Being Australian means I can also make a living here because this is home. My parents always pointed out that I, too, had the opportunity to make it happen. I have a grandmother in my hometown, whom I haven't met yet. I've been talking to her and hope to see her soon.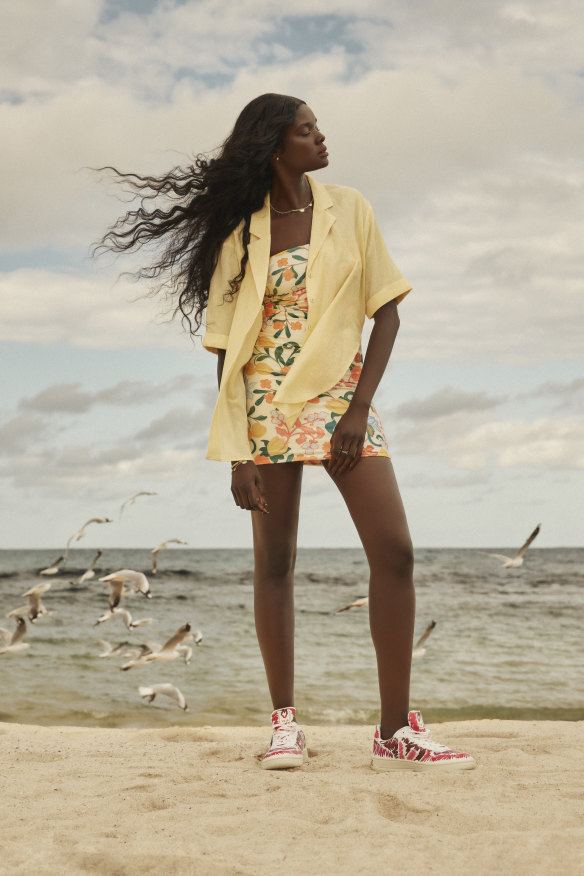 What is school like for you? I went to a multicultural school, a private Christian high school with people from different backgrounds. I loved growing up in Melbourne. I know I don't look like everyone else, but it allows me to listen. I grew up in a very white Australia and that's okay. But I also know that when I hear someone say something that might be wrong, I take the path of least resistance. Sometimes I get an apology, sometimes people realize they might be wrong, but that's the way the world is, and every black person knows it.
Loading
Has model diversity improved since debuting in 2013? The industry has changed a lot in those years. You're definitely seeing more models from different backgrounds: black and Asian women and all body types. It is no longer the usual stereotype of past models. You won't be surprised when you don't see young, slender models, and I'm glad I was also part of the change process to represent more black women.
How do you deal with racism in the industry? I've always wanted to be someone who can see through the past, I've always wanted to be someone who can do a better job and do it better. Sometimes you hear someone say something inappropriate or a mistake in the industry and then apologize. It's okay to accept that apology. Racism doesn't have to be passive – most people will realize it's wrong.
Who are your biggest supporters in the beauty industry? Working with makeup artist Pat McGrath was crucial to the rest of my career. It was huge to have her fully embrace me and sell me to top clients. Having someone like her say my name in other rooms makes me work with Rihanna.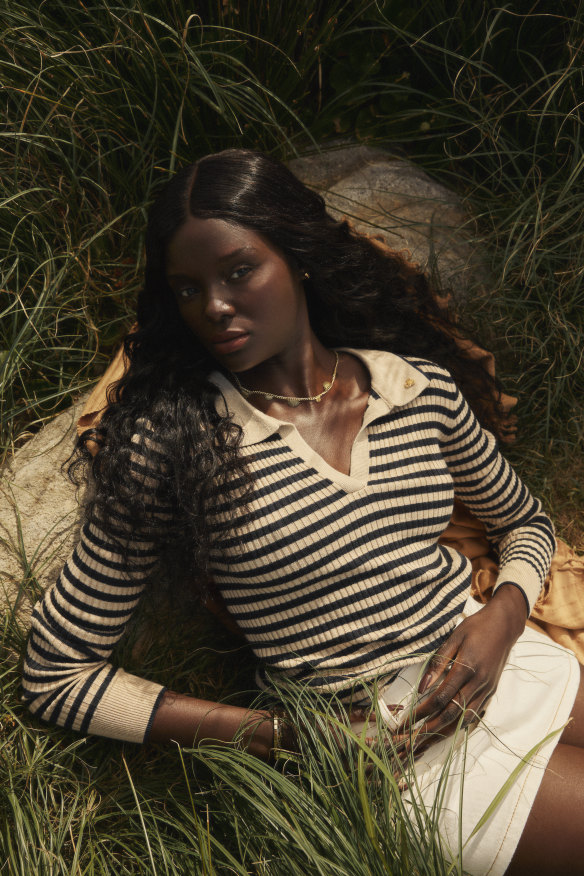 What was it like working with Rihanna for Fenty Beauty? It was a big moment; it led to being a three-year global ambassador for L'Oréal. I met Rihanna through a mutual friend in New York, we hit it off and I became the face of Fenty Beauty for dark skin tones. Rihanna challenged the beauty industry to expand their palette, and being that face opened doors for me. She is an incredible woman. She works around the clock. I love working with her on set; the hours are long, but she's always there.
Who is your greatest role model? This will be my father, Latjor. He was a man of few words, but always powerful when he spoke. He reminds me to be humble and remember where we come from. Remember to take your time and think hard about what you want to do. He taught me to pace myself and have a clear vision, to dream big and keep going. It's been awesome to see him build his career as a veterinarian. He took exams, sometimes flunked by a few points, but kept going back. It taught me that if you really want something, you can achieve it.
Loading
what's it like to participate supreme modela six-part documentary highlighting the work of black models in the fashion industry? Getting a platform to unite and share our experiences together has made the process easier for me. It didn't feel like we were breaking the rules or speaking alone. Being with models past and present and being vulnerable on our journey is inspiring. Seeing Iman there and befriending her while away from the camera felt real and authentic. This is a real support system. This documentary is based on the book by Marcellas Reynolds. It's been a true labor of love and it's important for people to hear and tell our story.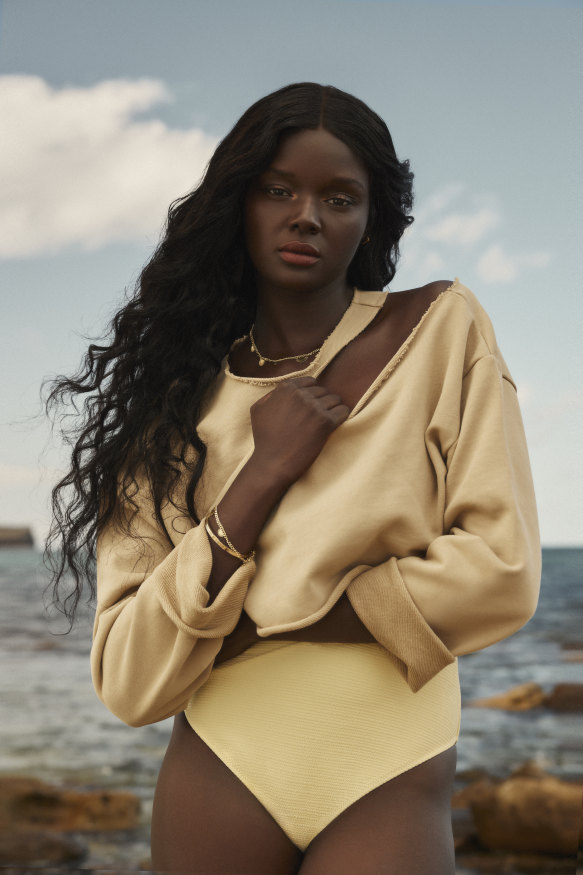 How do you take care of your mental health in the high-pressure world of fashion and modeling? I am a strong Christian and a believer in God; I think people need to believe in a higher power and a higher self. And I've been reading, and trying to express myself; it's good for personal growth, and I want to hone that. That's how I keep my feet on the ground and learn more about myself; I want to go deeper and see what else I can dig. It's also important to let people tell you that it's okay to be vulnerable. This is the key to being a human being.
Loading
Has your Christian faith been the cornerstone of your life? It has always been a part of my life. When I moved to New York, I had no protection from my family and found myself alone. I realize I can only rely on myself. This boosted my confidence and pushed me to grow even more over the past few years.
What are your plans and goals for the next five years? It's amazing how much has happened in the last five years of my life. I wish I could do something outside of modeling and have my own family.
Get the most out of your health, relationships, fitness and nutrition with our services live well newsletter. put it in your inbox every monday.