In one room, a collection of pressed poppies collected near his Berlin studio is displayed on one wall, flanked by shutters. Visitors can choose to close the shutters or leave them open. The more poppies are exposed to the air, the more their color fades over the next few months – but hidden and protected, we simply don't get a chance to appreciate their color.
Saraceno—and his work—occupies a fascinating space between art, science, and even spirituality, all of which culminate in a room with a cabinet full of books and papers that Documented from the practice of spider divination—where spiders are used to answer binary questions—through papers and images detailing Saraceno's work with scientific institutions, including breakthroughs in mapping webs and using spider webs to create music.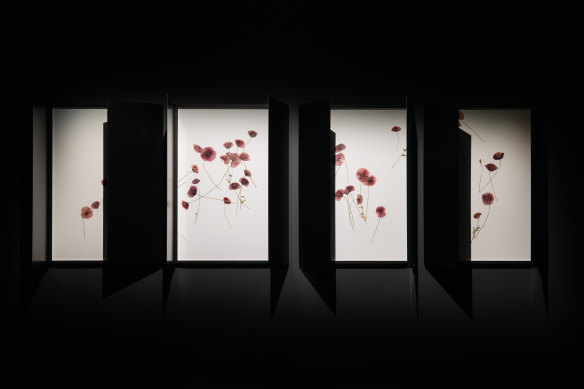 Both achievements are displayed in the surrounding rooms. One feature is that the spider webs are slowly resolved by a red laser, a scanning process Saraceno explained he developed over three years. On the other side, long strands of spider silk, tied at each end to opposing walls, float through the air, filling the air with an eerie soundtrack produced by their movement.
In the middle room, behind a cabinet is a round table surrounded by curtains. Above the head is a small spider's web encased in glass, neatly arranged with a series of cards developed by Saraceno for arachnomancy, a practice associated with spider divination. For the exhibition, five tarot readers were trained to practice the art and will perform the readings for pre-booked visitors.
Loading
I have a theory about the last room. It's more whimsical than anything before it – with floating orbs and moving devices, including one that appears to defy gravity while floating upside down. Silhouettes and shadow animations play around us. For me, it feels like going back to square one, as if we are now in a beam of light – where we are dust floating in the air and the wall between art and the "real world" has just been broken.
Thomas Saraceno air ocean Opens at MONA on December 17th and runs until July 24th, 2023.
Go out and love your city's cultural guide.Subscribe to our Culture Fix newsletter here.