Nick Cave
Sydney Opera House, 16 December
★★★★½‌
A friend of mine who thinks Nick Cave's music is a collection of pain and ego, texted me when I left the show to ask if I had a good time because she thought I'd be sad and grim.
"Yes, actually," I told her. In fact, the entire audience seemed to enjoy it. The same seems to be true of Cave himself.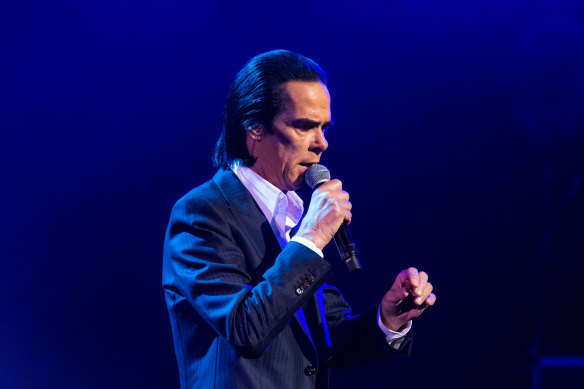 Between Cave's banter with fellow multi-instrumentalist/collaborator Warren Ellis, the audience's vocal and physical interactions with the duo, and his sometimes understated introductory lines — not to mention Ellis' twist and flamboyant gestures – the evening was often punctuated with laughter.
Goodness, aren't we touched and uplifted too? Gloriously so.
songs like this comfort and carry massacre, It emerges as a spiritual song (but not gospel), with its images of fire, rain, and children topping and rocking a sailboat work song, or ghostSilent singing continued for a few minutes before Cave declared, "This world is beautiful."
Loading
soothing and serenade bright horseEllis screeches a siren, backing singers Janet Rasmus, Wendi Rose and T Jae Cole with the sea at his feet, and Cave assures us that "the world is obvious, which doesn't mean we can't believe in certain things". And accidentally touched cosmic dancerGraceful T-Rex songs are filled with extra pathos depth, the original up-swinging strings and backwards-backed guitars are replaced by Ellis' single violin, more like a resonant saw working on solid wood.
But lest this seem to support my friend's expectation of grief, hand of God is an escalating torrent, as the cave looms above our heads, the song seems to be preparing the way for the devil to be cast out in a rage. cry song The feeling of being elevated to the barroom, not just a little swagger, but white elephant From slow-burning testimonies to the work of a sacked priest who languished in his last crusade, percussionist Larry Mullins and bassist Colin Greenwood turn majesty into dominance and Finally broke out.