Police are searching for a man who allegedly hijacked an elderly couple in Sydney's south-west this week after helping them carry groceries.
The wanted man is also accused of assaulting the 90-year-old man and 81-year-old woman during the violence in Kasula on Tuesday.
The man helped the elderly couple get into their car, a gold Nissan Micra, at a shopping center in Casula around noon, police said. He then asked the couple for a lift, which they agreed to.
"In the vehicle, the 81-year-old woman driving the car noticed the man allegedly stealing her mobile phone from her handbag before pulling over on Kurrajong Road in Casula, police said in a statement on Saturday. And asked him to leave." Morning.
Police said the man allegedly assaulted the woman before getting into the driver's seat and driving away with the 90-year-old man still in the car.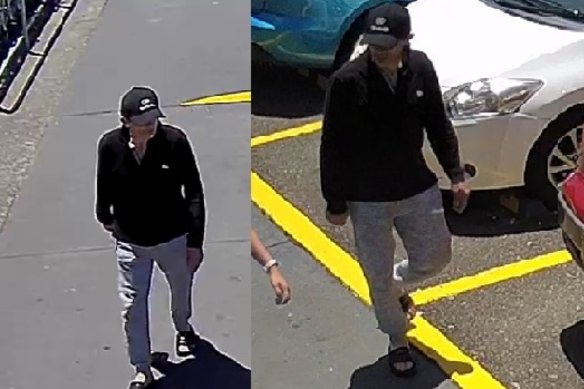 Police say the man assaulted the 90-year-old man on Liverpool's Grimson Road a short time later and pushed him out of his car before driving away.
Paramedics took the elderly man with facial injuries to Liverpool Hospital.
Police released CCTV images of a man they wanted to speak to about the attack. He is described as Caucasian in appearance, aged 50-55, of medium build, with short dark hair and light stubble.
He was wearing a black jacket, gray sweatpants, black slippers and a black hat at the time of the incident.
Anyone with information has been urged to contact Crime Stoppers on 1800 333 000.