industry: Online retail, furniture sales.
Loading
main products: Household items, furniture, and DIY project supplies.
Key figures: CEO Mark Coulter, Chairman Stephen Heath.
Bull case: At last week's annual shareholder meeting, Coulter had good news to share with investors about the company's prospects.
It's hard to compare sales over the past few months to last year, when much of the East Coast was in lockdown.
Coulter said revenue was down 14% between July and October, but was slightly higher in November than last year. "This is a good sign as this month is typically our busiest selling period due to Black Friday, suggesting a return to double-digit growth for the financial year."
The firm also reported that while the rest of the economy is concerned about inflation, it has actually seen deflationary Sign factory and container cost.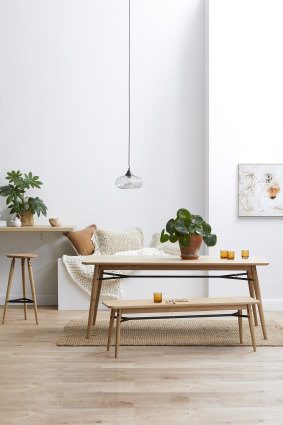 Goldman Sachs analysts expect the company to return to steady revenue growth again from 2024 to 2025, predicting that while home goods sales will decline in the next few years, Temple & Webster can gain enough new customers to offset the impact.
"Given the near-term macro headwinds across the category, we believe the market is underestimating the long-term potential of the business," analyst Sophie Carran said last week.
"Longer term, we expect growth in online penetration and market share consolidation of Temple & Webster to drive 10-year revenue CAGR of over 13%."
UBS analyst Tim Piper said the company remained the preferred e-commerce option within his team's coverage, noting that Temple & Webster was able to Keep up with more COVID-driven growth.
Its balance sheet is "the strongest among its peers, with more than $100 million in net cash," which could provide a cushion if trading conditions deteriorate, Piper said in a note.
Loading
Bear case: A slowdown in overall online retail sales isn't the only business risk keeping analysts on their toes.
Sales of furniture and home goods in particular are expected to slow from next year as interest rates continue to rise and Australian consumers feel the full impact of inflation and higher mortgage repayments on their household budgets.
Macquarie's retail team noted that trading had been improving ahead of Christmas, but was cautious about spending intentions for next year.
"We expect the macroeconomic environment to remain difficult in the near term due to rising interest rates, in-store shifts and COVID-driven demand," its analysts said in a note to clients. The group has a $4.05 price target on the stock, Well below last week's closing price of $4.99.
The advice given in this article is general and is not intended to influence the reader's decision about an investment or financial product. They should always seek their own professional advice and take into account their own personal circumstances before making any financial decisions.