He called on the state government to take "urgent action" to reverse the trend, including investment in resources, capacity and access to non-urgent care.
"In an emergency, every minute counts. In cardiac arrest, every minute delay in treatment reduces the chance of survival by 10 percent," Kastelan said.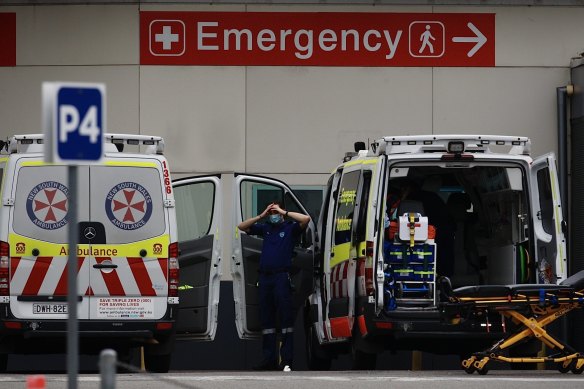 Overall, ambulances responded to 330,591 calls from July to September — a 3.3 percent increase compared to the same period in 2019 before the pandemic.
Health Information Agency chief executive Dr Diane Watson said the results were slightly better than the April-June period but still significantly below pre-COVID levels.
Patients also continued to face lengthy waits in emergency departments, although overall visits to emergency departments (744,853) were down compared to the previous quarter and pre-pandemic levels.
Loading
But compared to the same quarter in 2019, the number of people triaged in the most severe categories (Grade 1 and 2) increased by 10.7% (583 new patients) and 11% (10,993 new patients), respectively.
Overall, one-third of patients waited too long for treatment, the report showed.
Almost half of Grade 2 (urgent, potentially life-threatening) patients waited longer than the clinically recommended 10-minute treatment target, although these results were an improvement from the record-low treatment time results seen in the previous quarter.
Nearly three-quarters of patients treated and admitted to the hospital spent four or more hours in the ED, and one in ten patients treated and admitted spent more than 22 hours in the ER 5 minutes – the worst result since the BHI report began in 2010.
Dr Clare Skinner, president of the Australian College of Emergency Medicine, said the large number of patients triaged2 – including people with life-threatening problems such as chest pains, strokes and road accidents – Shows emergency departments are still under enormous pressure.
"Patients will continue to experience inordinately long waits for care, and staff will continue to suffer from stress, burnout and departure from the department until we fundamentally improve coordination, resource allocation and integration across the health system," Skinner said.
Patients in western and south-eastern Sydney hospitals had the longest wait times in emergency departments, with around 70 per cent of patients not receiving treatment within clinically recommended guidelines.
Based on clinical benchmarks, as of the end of the quarter, a total of 99,985 patients were on the elective surgery waiting list, of which 17,893 patients were overly waited.
Loading
But the result was below the previous quarter's record high and almost all urgent elective surgeries were carried out on time (98.9 per cent), as NSW hospitals completed 55,493 elective surgeries between July and September.
Australian Medical Association NSW president Dr Michael Bunning said the state needed a long-term plan to re-establish elective surgery in public hospitals, including agreements with private hospitals, in addition to the measures being taken to address the pandemic backlog. Burden sharing agreement.
"For people in pain, the wait is too long," Bunning said.
NSW Health Deputy Minister Adjunct Professor Matthew Daly said the report showed the health system was improving after an extremely busy winter amid the ongoing pandemic and staff furloughs.
"This has been one of the most challenging years on record for the health system, and the July-September period was no exception, but we're already starting to see improvements in the timeliness of care delivered," Daly said .
The Morning Newsletter is our guide to the most important and interesting stories, analysis and insights of the day. register here.