Here's why: I respect people because they always respect me. I grew up using an electric wheelchair, and many people I meet are curious about my disability. But no one asked me questions about my disability because they didn't like the answers I gave and re-asked their questions over and over again. They won't: it's clearly bad manners in any culture and in any country. George Peterson, Bathurst
I always welcome questions about where I was born, why I wear a hijab or why I chose Australia because it allows people to interact with me and we get to know each other and enrich both sides.
However, when an acquaintance asked me which country I would support if India and Australia went to war, I asked him if he would ask Tony Abbott or Julia Gillard that question, since they were both born overseas? Manbir Singh Kohli, Pemulwuy
With a last name like Kamenyitzky, I'm often asked about my ancestors. With a straight face, I sometimes answer it's Scots, it used to be McKamenyitzky, but I shorten it. Another variation I use is my ancestor's Irish name O'Kamenyitzky. Peter Kamenyitzky, Castle Hill
I've been in Australia for 37 years and still get asked at least twice a week which country I'm from and I'm white. That's because I never lost my American accent. Like other immigrants, I get annoyed by this question, but I always answer it because it usually comes from genuine curiosity and friendly outreach. Larry Waldenberg, Forest Inn
While undoubtedly full of noble intentions, your correspondent can't understand the context in which they ask about someone else's ancestry. Many Australians regularly receive racist comments and abuse. These remind complete strangers that "you are different" and can lead to ongoing feelings of rejection.
The worst thing a person can say to another person is "you're not one of us". It can be expressed through casual jokes, casual body language, or indeed through unsolicited, condescending, personal inquiries about the legacy. It's easy to imply that it's not racist; no one ever asked me about my ancestry.
Michael Murray, Camere
Is your correspondent in denial or just unaware? We all don't feel like we're racist, but Australia is a racist country (ask Adam Gooders) and casual racism runs deep. Wake people up – let's lift up this country we love so much; let's treat people as people (this is a quote from Tracy Holmes who recently told us she has Chinese ancestry. Of course, She looks white, so no one asks.)
For the record, I am a white man who immigrated here as a child, so I look and sound "Australian" and thus have never been asked where I am from. I see racist connotations in this question every day. Michael McMullen, Avoca Beach
Are you a port dweller tired of the noise of party boats?exchange with me
Sound can definitely travel across water, so my sympathy goes out to port dwellers who have to put up with the party boat noise ("Harbor dwellers and party boats on the rocks", 6 December). I love my humble home in a very quiet suburb, but I'd be willing to rent one for the Friends of Sydney Harbor team. Peace of mind. Please send photos or video clips to… Mark Nugent, Location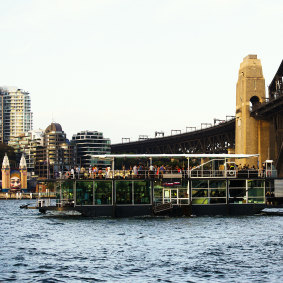 There is an easy and inexpensive solution to party boat noise. Have every party boat carry personal audio equipment of the kind museums and art galleries use. Revelers who want to damage their hearing and prevent any meaningful conversation with other people at the party can choose to wear one of these items and turn up the volume to suit their individual level of pain. No one standing two feet away and anyone ashore will hear anything.
For added realism, a thump can be mounted on the hull to replicate the bass beats needed to complete the party scene experience. There is no sound, and the residents on the shore can rest in peace. They can look away if the light bothers them. There is no escape from this voice.
Richard Keyes, Enfield
How does the transient party boat noise pollution at Cremorne Point compare to the atmospheric pollution caused by cruise ships docking in White Bay? Cornelius van der Weyden, east balmain
Think of the animals at Taronga Zoo: if the Sydney Harbor fireworks display were banned, I think they would be prepared to put up with the noise of the party boats, not only at New Years but at all other times. I agree with them. Adrian Clayton, neutral bay
Christmas schadenfreude on hearing noisy questions from Friends of Sydney Harbour. Tim Schroeder, Gordon
Grattan's comments to GP don't follow through
As a GP for over 40 years, having gone from mostly acute relatively transient manifestations to managing more complex and chronic conditions, I agree with your editorial that the GP business model must change ("GPs must change business models for chronic conditions", 6 December).
However, this change is certainly very different from the chronic care program introduced a few years ago. These are bureaucratic tick boxes, used by some as an easy source of income, with limited benefit to patients in my experience other than providing a limited number of Medicare joint health visits. I'm pretty sure the experts who chose the program never read it. Jim Pollett, Wahroonga
General practice has changed and evolved considerably over the years, and the Grattan Institute seems unaware of these changes. Criticisms and suggestions for doing so are clearly behind the times and do not reflect the actual situation.
I trained as a GP in the late 20th century, when the concept of multidisciplinary care was in vogue, so our 'young' GPs are well versed in the role of team-based care for chronic health conditions. Indeed, GPs have long advocated for patient registration in 'medical home' and hybrid funding models to improve health outcomes. Grattan is pretty behind the times – perhaps it might be an idea to listen to actual experts in the field.
General practice is a dynamic field that, along with all other health and allied health providers, looks after the whole person. Ashwin Garg, Strathfield
LGBTIQ investigation overdue, police should help
NSW Police have complained officers were called into the world's first investigation into an alleged hate crime against the lesbian, gay, bisexual, transgender, intersex and queer (LGBTIQ) community ("Angry judge slams police claims6 December). They complain that resources are being diverted from currently pending homicide investigations. In the view of NSW Police, they may have been diverted but are needed to assist with investigations into historic hate crimes. This necessary and long overdue investigation.If NSW Police provide sufficient commitment, priority and resources to address hate murders by members of the LGBTIQ community as they occur, unsolved crimes today will Greatly reduced. Time to remedy. Rodney Seacombe, Petersham
Childbirth remains vulnerable to abuse
Reading the study, I initially thought it wasn't just the delivery method ("Women speak of 'obstetric violence'Dec. 6). Giving birth as a naive young woman 50 years ago, I think it is a trauma best forgotten. I was only reminded of it when I read about the woman begging the doctor to stop stitching her That experience of feeling every stitch and trying to tell myself it's over, don't make a fuss.I'm shocked that childbirth, the epitome of female vulnerability, remains vulnerable to abuse after 50 years of advancements in women's rights. Sally Shepard, Nelson Bay
Want football to thrive?Reduce registration costs
Blacktown City were publicized during the World Cup for their role in producing six Socceroos ("Players call on Chiefs to capitalize on World Cup momentum", 6 December). The enlarged Liverpool area has previously been described as one of the best nurseries for junior players. Football has consistently had more junior players than any other football code.
If the great game wishes to maintain and build on the momentum provided by the returning Socceroos, the task is simple. It costs parents a huge price for their kids in terms of registration etc. Cut those costs.
That's the most important thing you can do to maintain numbers, interest in the game and supply for future Socceroos. John Macdonald, kings langley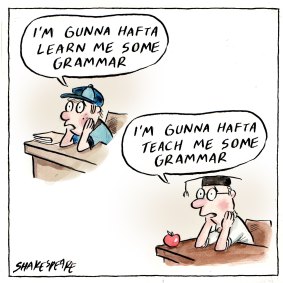 Grammar saves lives
Chris Harrison fails to mention that punctuation saves lives ("How Grammarly Restored Order to the World and BreakfastDec. 6). What we're taught in school is that adding a well-placed comma to the phrase "Let's eat Grandma" can avert a potentially dire outcome. Joy Nathan, Mona Vale
As your correspondent implies, no one suggests teaching English grammar at the expense of learning other subjects (letter, 6 December). Grammar pervades language in both written and spoken forms. Whether the topic is El Niño or quantum mechanics, if the teacher or students do not have the language, the knowledge being imparted suffers. Andrew Scott, Pymble
Your correspondent claims that grammar is useless without knowledge, but it is grammar and its structure that enable people to learn, analyze and communicate knowledge and new ideas clearly. We've all met extremely intelligent people who understand complex ideas but lack the grammatical ability to break this knowledge down so it can be understood. Instead, it's great to meet smart people who can communicate the most difficult ideas in a simple yet engaging way through effective use of grammar. Knowledge is useless unless it can be communicated. Elizabeth Goodsoll, Wahroonga
digital view
Online comments for one of the stories that attracted the most reader feedback yesterday www.smh.com.au website
Australians strongly back energy price caps as states push back
from libertine: "States need to remember that they govern not to protect their budget bottom line. They govern for their residents. When people are hungry, homeless, or unable to afford to turn on fans or air conditioners for extreme heat waves, they need to direct people's needs Put it first."
submit a letter to sydney morning herald, email letters@smh.com.au.click here Tips on how to submit your letter.

The Opinion Newsletter is a weekly roundup of opinions that will challenge, champion and inform your own opinions. Sign up here.