Bank of Queensland executive chairman Patrick Alavi has sought to assuage market fears of a swift ouster of former chief executive George Frazis, saying he is working to stabilize the bank's leadership and plans to improve its risk management.
Allaway elaborated on his explanation of why on Tuesday BOQ director fires Frazis Last Monday, after just three years as chief executive, the board made it clear to Mr Frazis that it wanted a different leadership style in the "long term".
Some analysts were surprised the bank removed Frazis before a replacement could be found, with Morgan Stanley analyst Ricard Wiles saying last week that the change "created significant leadership uncertainty during BOQ's complex, multi-year strategic transition." ".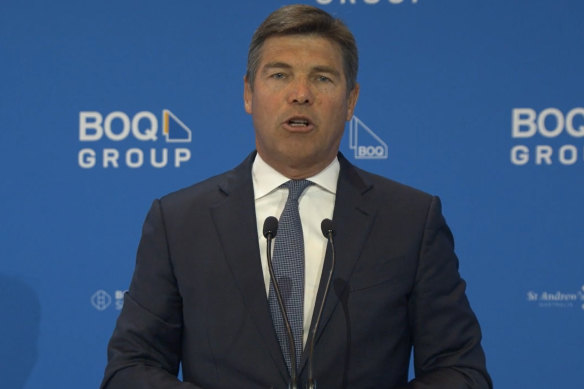 Jefferies analyst Brian Johnson said last week that Frazis' immediate exit was "disturbing," while Credit Suisse analyst Jarrod Martin said the move raised "earnings risk" as the bank appears to be giving up on reducing its focus on growth, At the same time increase the plan management of venture capital.
At BOQ's annual general meeting in Brisbane, Allaway echoed those concerns, saying it would be "destabilizing" for Frazis to stay on if he lost the support of the board.
Allaway will take over as executive chairman until a new CEO is found, a process that could take up to nine months, acknowledging the leadership shakeup would surprise shareholders. But he insisted that changes needed to create a "simpler, more resilient bank" had been the board's top priority over the past week.
"We recognize that the immediate departure of the CEO and the associated uncertainty is not ideal, but we do not believe that a longer transition is in the best interests of BOQ," he said. "We believe that without the continued support of the board of directors for George in the search for a successor, continuing in the CEO role would be suboptimal and precarious."
Some bank watchers also speculate that relations between BOQ's board and chief executive have soured, suggesting a high turnover of executives and australian financial review In a report in March this year, Allaway publicly expressed concerns about Frazis' leadership.
In response to a question from the Australian Shareholders Association about executive turnover, Allaway said he was looking to provide stability in leadership while taking on the role of executive chairman.